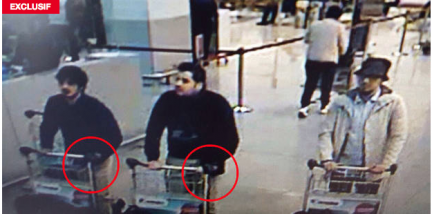 The news outlet La Dernière Heure, a french-language daily newspaper published in Brussels, has published a photo that they claim shows three suspects that were possibly involved in the bombing attack at the Brussel-Zaventem Airport.
The image was taken from CCTV security cameras inside the airport in the moments leading up to the explosions and it shows three men, all pushing luggage carts.
Two of the men are dressed in what appears to be matching outfits with black jackets, khaki pants and a single glove on their left hand.  Experts interviewed by the newspaper speculated that the gloves might have been used to hide a detonator as both men are thought to have died as part of suspected suicide attack.
The third man, pictured wearing a white jacket and dark colored hat, is thought to still be at-large, according to the report.
The news outlets Belga and AFP have also confirmed the authenticity of the photo.
[h/t La Dernière Heure; image via dh.be]
Have a tip we should know? [email protected]