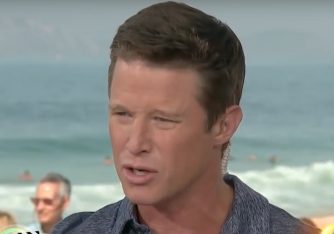 While Billy Bush's future at NBC News remains in limbo, a new report claims the Today Show host may file a lawsuit against the network if they try to fire him for his role in the now infamous Donald Trump "grab'em by the p—sy" tape.
According to Page Six, it is only a matter of time before NBC News will formally terminate its relationship with Bush by claiming he actions on the tape violate a "morality clause" in his contract.
"Billy is technically fired. It's just a matter of time. NBC isn't ready to announce it yet. They are negotiating his exit," an unidentified NBC source told the newspaper.
Meanwhile, Bush is reportedly gearing up for a fight with the network, and may even file a lawsuit if they fire him. Sources say Bush had been telling colleagues about the network about the tape since at least August 2016 – before he was named as a Today Show host.
Citing a source close to Bush, the report states:
"He told people at NBC about this tape. What if there was a transcript of the tape, and high-level discussions about when to release it? Which executives were involved, and why did they decide to suppress the tape until October, when they could have aired it in August? Was it an oversight or a strategic decision by NBC to affect the race? Billy was far from the only person at NBC who was talking about the contents of this tape. On-air talent does not make the decision when to air stories like this."
It seems that Bush believes someone inside NBC leaked the audio to the Washington Post "because of frustrations that 'Access Hollywood' had planned to air it the following Monday," after the second debate.
NBC is currently conducting an internal investigation into the matter and neither the network or Bush responded to the Post's requests for comment.
Have a tip we should know? [email protected]