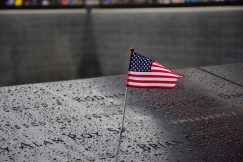 Carlos Humberto Cardona, 48, was part of the recovery efforts at Ground Zero following the devastating 9/11 attacks.  Now, due to a 30-year old conviction, he has been targeted by ICE officials for deportation.
According to Cardona's wife, Liliana, Cardona entered the United States at age 17 from Colombia after his brothers, who had been police officers, were killed by anti-government rebels during Colombia's civil war.  "His life was in danger," his wife said.
Liliana says that Cardona "didn't think twice" about assisting the recovery and clean-up efforts, although like many Ground Zero workers, his health has suffered as a result.  "He inhaled fumes [at the World Trade Center site]. His health ended up being affected. He has lung problems. He has gastrointestinal problems. He has psychological issues. He has a lot of anxiety," she told the New York Daily News in an exclusive story.
Cardona was one of the first undocumented immigrants to be taken into custody under the Trump administration, although he is fighting his deportation with a New York clemency application and a federal lawsuit in Brooklyn.  "He's very much an American," Rajesh Barua, his attorney said. "He's scared of going back to Colombia. He doesn't know how he'll maintain a living and what kind of treatment he'll have for respiratory problems, which are very real."  The lawsuit will ask a Brooklyn federal judge to request a faster decision on Cardona's 2014 application with the Department of Homeland Security and U.S. Citizenship & Immigration Services to verify his marriage to Liliana, who is a naturalized U.S. citizen.
Immigration authorities want Cardona removed for a 27-year old conviction for attempting to sell drugs in New York, although his wife insists on his innocence.  Officials issued a removal order based on his conviction in 2000 and arrested Cardona in 2011, but he was released after one day.  Cardona received an order of supervision due to his "chronic respiratory problems caused by his time as a recovery worker", according to court documents.
The order, however, was revoked earlier this year as part of President Donald Trump's executive order to detain undocumented immigrants facing deportation.  While verification of his marriage to Liliana would be important to allow Cardona to remain in the United States, Barua warned that it would only be the first step to gaining residency.
Cardona has been held in New Jersey's Hudson County Correctional Facility following his arrest.
Have a tip we should know? [email protected]