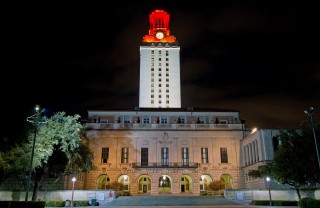 On Wednesday, three University of Texas at Austin professors filed a lawsuit in a US District court in Austin to halt the ability of students to carry concealed guns into classrooms. The lawsuit is an attempt to block a new Texas law that would allow students to carry concealed weapons into buildings and classrooms throughout the University of Texas system. The University of Texas system is one of the largest school systems in the nation with nearly 214,000 students enrolled.  The professors have claimed that this new law would have a devastating effect on academic discourse and freedom.
The professors, Dr. Mia Carter, Dr. Lisa Moore, and Dr. Jennifer Lynn-Glass, make the argument that because they discuss sensitive topics within their classrooms, students who have guns in the classroom could present a danger to academic freedom and the other students in the class. They also state that they would need to pull back their statements because of the cloud of possible gun violence.
"Compelling professors at a public university to allow, without any limitation or restriction, students to carry concealed guns in their classrooms chills their First Amendment rights to academic freedom," the lawsuit states.
Earlier in the year, the President of the University of Texas system, Greg Fenves, reluctantly approved the plans for licensed gun owners to be able to carry concealed guns into the classroom. He claims that he was forced to by the Republican backed law.
The Republican Governor, Greg Abbott, has said that the law will help to prevent mass shootings by arming more people in a situation with an active shooter. The Attorney General, Ken Paxton, released a statement on the lawsuit to LawNewz.com:
"This lawsuit is not only baseless, it is an insult to the millions of law abiding gun owners in Texas and across this country. The Texas Legislature passed a constitutionally sound law, and I will vigorously defend it. Adults who are licensed by the State to carry a handgun anywhere in Texas do not suddenly become a menace to society when they set foot on campus. The right to keep and bear arms is guaranteed for all Americans, including college students, and must be vigilantly protected and preserved."
While the University of Texas system must go along with it, the law allows private colleges to opt out. Many of those private colleges have because they believe that the law runs counter to student safety.
You can read the full lawsuit below:
Have a tip we should know? [email protected]