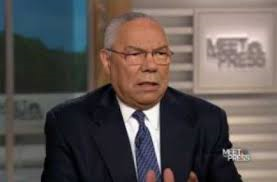 It is becoming evident that former Secretary of State Colin Powell is growing increasingly annoyed that Hillary Clinton is trying to shift the blame for using a private email server on him. The New York Times reported on Friday that Clinton told the FBI that she got the idea to use private email from Powell.
Over the weekend, People Magazine caught up with Powell at an event in East Hampton, New York. Powell didn't mince words and said that Clinton started using private email way before he ever sent her an email advising her of what he did. That raises questions as to whether Clinton lied to FBI investigators about who advised her to set-up the private email server. Of course, we don't know the full context of her FBI interview, which has not been released to the public.
"Her people have been trying to pin it on me," Powell told People on Saturday night at the Apollo in the Hamptons 2016 Night of Legends.  "The truth is, she was using [the private email server] for a year before I sent her a memo telling her what I did."
Powell has also denied a conversation that was reported by journalist Joe Conason in a new book about the Clintons. Conason claims that Powell told Clinton to use a private email system during a dinner party at Madeline Albright's home:  "Powell told [Clinton] to use her own email, as he had done, except for classified communications, which he had sent and received via a State Department computer," he wrote.
"General Powell has no recollection of the dinner conversation," Powell's office wrote in a statement.
Here's his full statement from Friday:
General Powell has no recollection of the dinner conversation. He did write former Secretary Clinton an email memo describing his use of his personal AOL email account for unclassified messages and how it vastly improved communications within the State Department. At the time there was no equivalent system within the Department. He used a secure State computer on his desk to manage classified information. The General no longer has the email he sent to former Secretary Clinton. It may exist in State or FBI files. For a complete discussion of his use of private emails he refers you to chapter 16, "Brainware" of his recent book, "It Worked For Me — In Life and Leadership," published in 2012.
Again, Powell contends that memo occurred after Clinton had already started using private email. In July, after a lengthy investigation, FBI Director James Comey decided not to press charges against Clinton for her use of a private email server.
This article has been updated. 
Have a tip we should know? [email protected]
Rachel Stockman - President / On Air Host