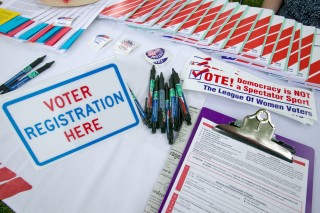 Authorities in Indiana are investigating an organization that reportedly submitted improper voter registration forms. The Indiana Voter Registration Project submitted a number of forms with missing or fake information, officials say. The group submitted more than 28,000 registration forms, and it remains to be determined how many have problems.
Captain Dave Bursten, spokesperson for the Indiana State Police, told IndyStar. "We have determined at least 10 voter registration forms are confirmed to have fraudulent information." But they still have plenty more investigating to do. "This is not an investigation that's going to end in three days," Bursten said. "This is going to take time to peel back multiple layers of the onion."
Officials in Marion County said that some forms were missing birth dates and social security numbers. When they reached out to the voters for more information, the individuals said they never filled the forms out in the first place. Indiana Secretary of State Connie Lawson said there was evidence that some forms were forged, with one voter's address being changed.
IndyStar reporters went to the Indiana Voter Registration Project's office on Thursday, but had difficulty getting information. Later that day, a worker for the group told them that employees had been sent home for the day.
That afternoon, a spokeswoman for the organization, Christy Setzer, said in a statement:
The Indiana Voter Registration Project is a nonpartisan effort to ensure that all Indianans who are eligible to vote can do so. As part of its quality-assurance program, the Indiana Voter Registration Project has reviewed tens of thousands of applications and identified a small handful that may have had incomplete or inaccurate information and, in those instances, we immediately informed the Registrar and asked them to double check those forms for accuracy.
But Hendricks County Clerk Debbie Hoskins said that her office was the first to notice the problems before reporting it to the police.
Captain Bursten pointed out the problems voters could face if their forms were forged or altered. "Imagine if your name has been turned in with a different address, and now it comes time to vote," he said to Fox59. "You go to your regular voting place and they say, hey it says you don' t live here anymore. You can't vote."
Secretary Lawson said that voters can verify their information at indianavoters.com.
[Joseph Sohm/Shutterstock]
Have a tip we should know? [email protected]