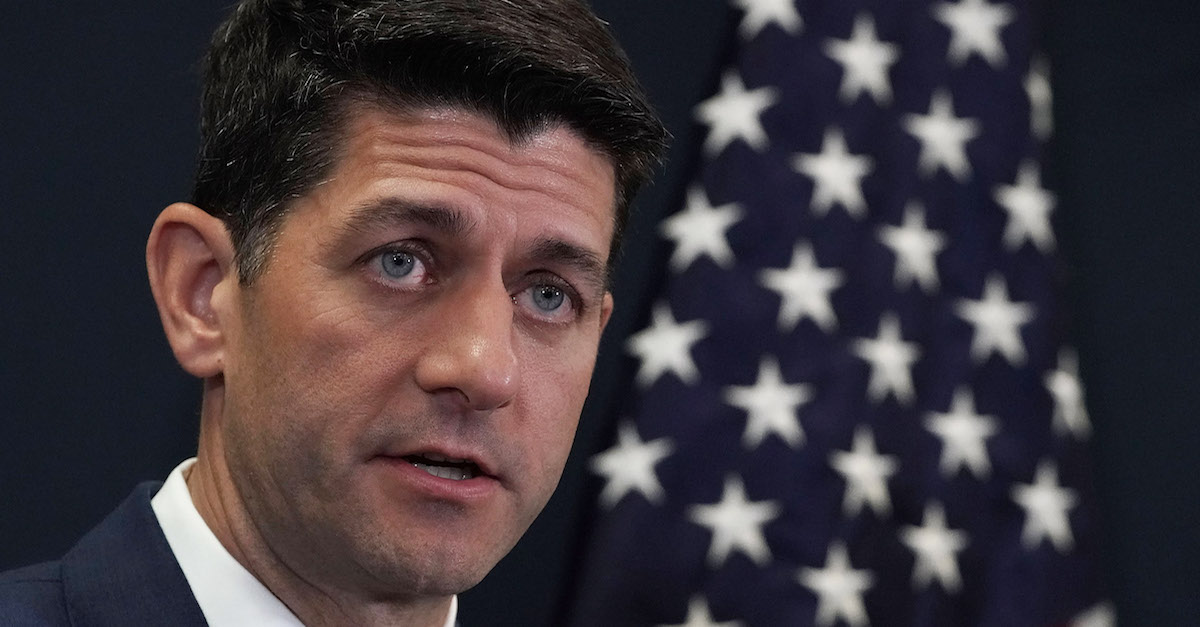 After Speaker of the House Paul Ryan (R-Wisc.) responded to President Donald Trump's claim that he can pardon himself, he shot down the "spygate" story that's been pushed by the president on Twitter.
According to the New York Times, Ryan began by admitting he didn't have technical knowledge about presidential self-pardons. He said that regardless of technicalities "obviously the answer is he shouldn't [do that]."
"And no one is above the law," he added.
Ryan then shifted gears and discussed Trump's demand for "spygate" to be looked into. He said he agreed with Rep. Trey Gowdy's (S.C.) assessment of what the DOJ told him at a meeting.
Much was made in the last week of May when meetings took place between DOJ officials and members of Congress about the "informant" the FBI had inside the Trump campaign.
Surprise appearances by Trump's White House attorney Emmet Flood and White House Chief of Staff John Kelly made the meetings even more interesting.
As we noted then, Flood's appearance at a classified meeting involving Deputy Attorney General Rod Rosenstein, House Speaker Ryan, Rep. Devin Nunes (R-Calif.), Rep. Gowdy and Rep. Adam Schiff (D-Calif.) raised eyebrows.
Ryan said Wednesday that Gowdy's assessment of what was said during that meeting with the DOJ was "accurate."
"Chairman Gowdy's initial assessment is accurate, but we have more digging to do," he said. Both Gowdy and Ryan were convinced enough by what the DOJ told them to say confidently that the FBI did the right thing.
In case you missed it, Gowdy said last week that Trump will be happy when he finds out what happened.
"I think when the president finds out what happened, he is going to be not just fine, he is going to be glad that we have an F.B.I. that took seriously what they heard," Gowdy has said. "I am even more convinced that the FBI did exactly what my fellow citizens would want them to do when they got the information they got and that it has nothing to do with Donald Trump."
Up to now on this subject, President Trump's Twitter feed has seemed far from happy:
[Image via Alex Wong/Getty Images]
Have a tip we should know? [email protected]