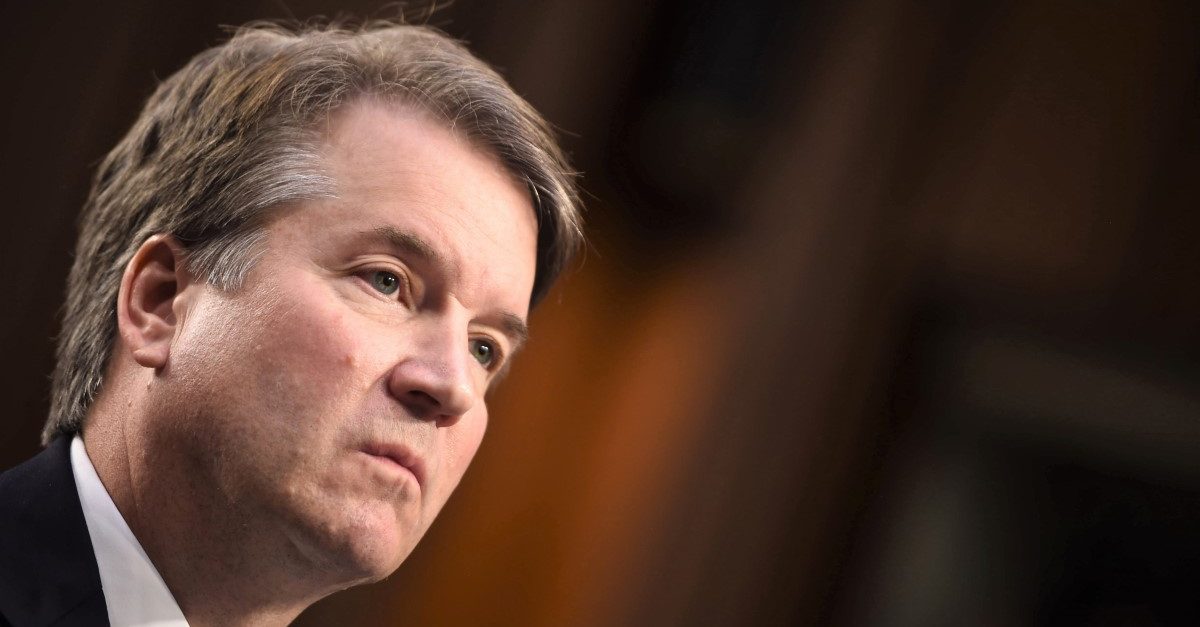 The Senate Judiciary Committee's hearing regarding Christine Blasey Ford's sexual assault allegation against Supreme Court nominee Brett Kavanaugh will only elicit testimony from two witnesses.
Senate Judiciary Committee Chairman Chuck Grassley (R-IA) confirmed the decision in an interview with conservative commentator Hugh Hewitt on Tuesday morning.
Hewitt asked Grassley, "Will there only be two witnesses on Monday?" To which Grassley replied, "Yes."
Reaction to the limited number of witnesses was swift and condemnatory.
New York Magazine's Irin Carmon, co-author of a popular book about Supreme Court Justice Ruth Bader Ginsburg, tweeted, "How can you find out what happened without interviewing all of the people who she said were in the room? Mark Judge should be questioned."
NBC News' legal analyst and former Assistant U.S. Attorney for the Southern District of New York, Daniel S. Goldman, was also critical of the decision. He said, also on Twitter:
According to Professor Ford's accounting, Mark Judge was present for the entire incident. He is a percipient witness who would be a key witness in any trial. Without his testimony, under oath, you cannot begin to determine what happened. Without him, the hearing is a sham.
Judge is a longtime friend of Kavanaugh's and is alleged to have been in the same room at the same house party where Kavanaugh is alleged to have attempted to rape Professor Ford.
Experts have previously cautioned that Judge's appearance would likely be damaging to Kavanaugh, specifically in regards to a book review Judge wrote wherein he praised "the wonderful beauty, of uncontrollable male passion."
Damaging to Kavanaugh.

His alleged accomplice and character witness, Mark Judge, wrote the following in a review.

See for yourself how Judge describes "the wonderful beauty, of uncontrollable male passion," how "every man who's fit to live has his own stories about the time." pic.twitter.com/vEVqHs0iec

— Ryan Goodman (@rgoodlaw) September 16, 2018
The Senate Democratic Caucus also slammed Grassley's decision.
"There must not be a hearing on Monday, and then a possible vote on the nominee a day or two later," Senate Minority Leader Chuck Schumer (D-NY) said. When asked specifically about the potential of only two witnesses appearing he noted, "That's simply inadequate."
Schumer also said about the potential clash ahead of next week's hearing, "The minority has always been able to request witnesses…in this case it certainly makes sense for one witness to be Mark Judge."
In additional comments to Hewitt, however, Grassley appeared uncertain as to whether Ford would be one of those two witnesses. The senator told the radio show host that his office had reached out to Ford "three or four times," but "We still haven't heard from Dr. Ford." Grassley continued, "It kind of raises the question do they want to come to the public hearing or not?"
During his conversation with Hewitt, Grassley also said he had no idea when the Senate Judiciary Committee would vote on Kavanaugh's nomination. Notably, Grassley also said that his office had not ruled out the possibility of a outside counsel to probe the allegations against Kavanaugh.
On the other hand, Grassley did shut down talk of the potential for the FBI to continue their own investigation, saying the agency's work on the matter was "closed."
Grassley also expressed sympathy for Kavanaugh, saying, "I'd hate to have somebody ask me what I did 35 years ago."
Law&Crime repeatedly attempted to contact Grassley's office for comment on this story, but no responses were forthcoming at the time of publication.
[image via BRENDAN SMIALOWSKI/AFP/Getty Images]
Have a tip we should know? [email protected]