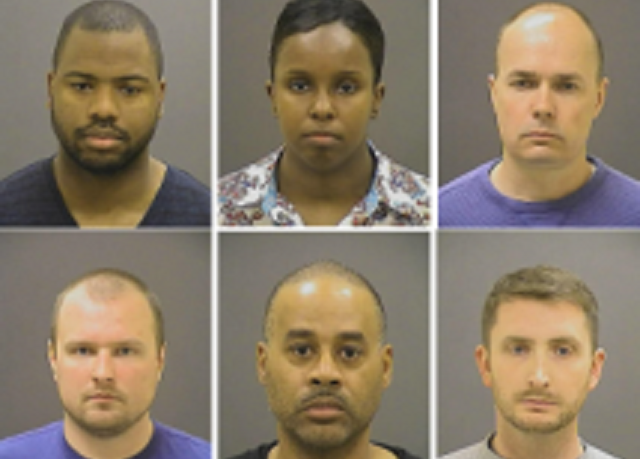 Last year, six officers faced charges related to the death of Freddie Gray, a suspect who died after sustaining injuries while being transported in a police van on April 12, 2015. None of them were convicted of criminal charges. Three of the officers were acquitted after trials, the trial for a fourth ended in a hung jury, and then his charges, along with those of the other two cops, were dropped by the Baltimore State's Attorney's office. Today, however, five of the officers are facing consequences in the form of internal discipline—with three of them to be fired—after an investigation yielded evidence that they were at fault, sources told The Baltimore Sun.
According to the Sun, Lt. Brian Rice, Sgt. Alicia White, and Officer Caesar Goodson, who drove the van that Gray was in, face termination from the Baltimore Police Department. Officers Edward Nero and Garrett Miller will be suspended without pay for five days. Officer Williams Porter, whose manslaughter trial ended in a hung jury, will not face any discipline.
The officers were accused of placing Gray in the back of the police van without buckling his seat belt, causing him to be thrown about the inside of the vehicle, and not taking him for medical treatment in a timely fashion. The investigation of the case was performed by the Montgomery County and Howard County police departments, so as to avoid any conflict of interest with the BPD. They submitted their report to city police on May 12, but it has not been released to the public.
Michael E. Davey, a lawyer who handles internal affairs cases for the Baltimore Fraternal Order of Police, confirmed to the Sun that the officers were charged with "violations of policy and procedure," but did not into any specifics.
Each of the five officers who are facing discipline will have the option of appealing the decision at a public hearing before an internal trial board, or they can accept their punishment.
In the wake of the Sun's report, Baltimore City State's Attorney Marilyn Mosby said in a statement:
If today's news is accurate, I am relieved to know that a majority of those involved will be held administratively accountable for their actions. And, while nothing can bring back Freddie Carlos Gray, Jr., I pray that today's announcement brings some closure to his loved ones, the City of Baltimore, and the dedicated members of the Baltimore Police Department.
.@MarilynMosbyEsq reacting to our report of internal charges being filed against 5/6 officers in Freddie Gray case: pic.twitter.com/N8gJwwkNlZ

— Justin Fenton (@justin_fenton) May 22, 2017
Have a tip we should know? [email protected]