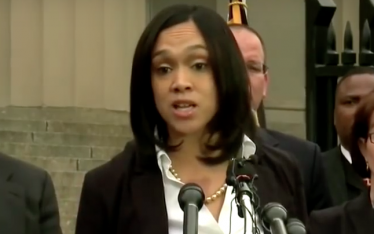 The Baltimore State's Attorney's Office has dropped all remaining charges against police officers related to the death of Freddie Gray.
Baltimore Sun reporter Kevin Rector just made the stunning announcement in a series of tweets earlier Wednesday morning.
BREAKING: Prosecutors have dropped ALL charges against ALL remaining officers in #FreddieGray case.

— Kevin Rector (@RectorSun) July 27, 2016
Again, charges against Officers Miller, Porter and White in #FreddieGray case just DROPPED. Other three officers acquitted. NO convictions.

— Kevin Rector (@RectorSun) July 27, 2016
Prosecutors appear to have made the decision to cut their losses after failing to obtain a single conviction in the cases to date.  Three officers were acquitted at bench trials earlier this year and the trial of a fourth officer ended in a hung jury in December 2015.  Baltimore State's Attorney Marilyn Mosby and two of the courtroom prosecutors, Michael Schatzow and Janice Bledsoe already face calls for disbarment over the handling of the cases.
This is a breaking story and LawNewz.com will provide updates as more news becomes available.
[image via screengrab]
Have a tip we should know? [email protected]