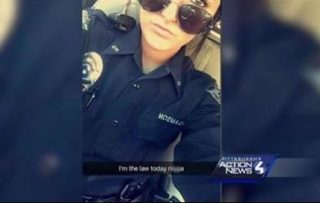 A police officer in Pennsylvania is off the force thanks to a racist social media post. The now former part-time cop in McKeesport uploaded an image of herself to Snapchat, featuring her in uniform, with the caption, "I'm the law today, n*****," according to WTAE, who identified her as Melissa Adamson.
Adamson said that the picture was taken months ago when she was with the Pitcairn Police Department. She left the Pitcairn Police on September 20 and had just started with McKeesport.
According to Adamson, the image resurfaced when a former coworker shared it. "An altercation happened between me and a former police officer and he's bringing up his dirt, ruining my career, which has been done," she said. Adamson insists she is not racist, but understands that she was wrong to use the slur. "[I]t was a stupid mistake. It shouldn't have been posted in general, regardless of how my intentions were."
The Pitcairn Police said in a statement:
As the picture alone does not constitute misconduct, it is symbolic speech and protected under the first amendment.However,it is the content of the text in the picture which is unacceptable. The Pitcairn Police Department holds high integrity for the community we serve and this type of conduct will not be tolerated.
Mayor Michael Cherepko stated in a Facebook post:
This post displays a degree of conduct and character that is far different from what I would expect from an officer in this city. It is absolutely unacceptable. Without hesitation, my office and the police chief's office immediately concluded that this officer's actions will not be tolerated in the City of McKeesport. She has been relieved of her duties, and her employment has been terminated.
[Screengrab via WTAE]
Have a tip we should know? [email protected]