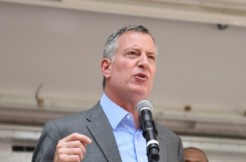 New York City Mayor Bill de Blasio said he won't eat at Chick-fil-A, and neither should the people of his city.
"What the ownership of Chick-fil-A has said is wrong," he said at a Tuesday press conference, according to DNAinfo. "I'm certainly not going to patronize them, and I wouldn't urge any other New Yorker to patronize them. But they do have a legal right."
The owners of the chicken restaurant—which has one location in Midtown Manhattan and an upcoming one in Queens—have a long history of being against same-sex marriage.
"As it relates to society in general, I think we are inviting God's judgement on our nation when we shake our fist at him and say, 'We know better than you as to what constitutes a marriage," CEO Dan Cathy said in 2012 radio interview with Ken Coleman.
That sentiment has shaped how the company has used its money. A 2012 report by The New York Times laid out how the restaurant has given millions to groups that fought same-sex marriage proposals or provided therapy that tried to make people straight.
Now that there's a new location set for Queens, City Councilman Danny Dromm is pushing for a boycott too, according to DNAinfo. He cited Chick-fil-A's financial relationship with these anti-LGBT groups.
[image via a_katz / Shutterstock.com]
–
Follow Alberto Luperon on Twitter (@Alberto Luperon)
Have a tip we should know? [email protected]