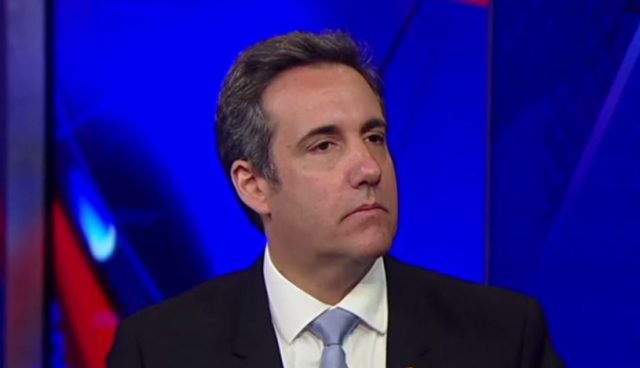 When President Donald Trump's personal lawyer Michael Cohen admitted that he paid $130,000 so a former adult film star wouldn't talk about an alleged affair she had with Trump, he insisted that he was never reimbursed for the transaction. He did it completely on his own, he claimed. Now, it turns out that might not be true, according to sources who spoke to The Wall Street Journal.
People who WSJ said were familiar with the situation said that after Trump won the November 2016 election, Cohen complained that he hadn't been repaid for the money he gave to Stephanie Clifford, aka Stormy Daniels. Clifford claimed to have had a sexual relationship with Trump while he was already married to his wife Melania, and the payment was supposedly meant to keep the story quiet before the election.
Cohen insisted that there was nothing illegal about the payment, although a complaint filed by Common Cause alleged otherwise. They asserted that because Cohen himself paid the money prior to the election, presumably for the benefit of Trump's campaign, it should be considered a campaign contribution. As such, it would be in violation of federal election law, because it wasn't reported and it exceeded the maximum allowable contribution amount.
One thing that wasn't made clear was whether Trump himself was aware of the payment at the time. If Cohen was truly expecting to be reimbursed, as his reported dissatisfaction seems to imply, that could mean that Trump knew about the payment all along, which would open him and his campaign up to legal trouble. Under 52 USC 30104, campaigns must report contributions that they receive. Additionally, it would have meant that Trump and his campaign knowingly received an illegal contribution.
Former Democratic presidential candidate John Edwards faced criminal charges for similar allegations, but he claimed not to have known anything about the payments meant keep details of an affair from getting out before an election. Edwards was never convicted, but Trump wouldn't be able to use that defense if there was evidence that he had promised to reimburse Cohen.
That being said, Trump could borrow another excuse from Edwards, which is that any effort to silence Clifford was meant to keep the story from his family, not the American people. If that was the case, the payment wouldn't have had anything to do with the campaign and shouldn't have been reported as a contribution.
Cohen, meanwhile, denies that any of this is true. When the Journal asked about the claim that he was upset about not getting paid back, Cohen simply said, "Fake News."
[Image via Fox News screengrab]
Have a tip we should know? [email protected]