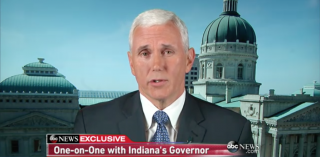 A controversial bill that would ban abortions in the case of a fetal abnormalities is now law in Indiana. On Thursday, Indiana Gov. Mike Pence signed the bill into law.
The law, which was passed by the Republican-dominated state legislature earlier this month, makes Indiana the second state in the U.S., behind North Dakota, to ban abortions due to fetal genetic abnormalities like Down syndrome, or more general diagnosed disabilities. The law will also prohibit abortions sought on grounds of a fetus's race, sex or ancestry. Further, Indiana would become the first step to mandate the disposal methods of an aborted fetus — burial or cremation.
As the deadline to pass the legislative measure approached, Pence described the law as "a comprehensive pro-life measure that affirms the value of all human life," according to the Associated Press. Pence's support of the bill should come as no surprise. The Republican Governor is a staunch opponent of abortion and received perfect scores from Indiana Right to Life for his record of opposing abortion. Nevertheless, the Republicans did feel the wrath of internal discord; several Republican women believe the bill went too far, despite "pro-life" allegiances.
Governor Pence is in the midst of a tight gubernatorial reelection race in Indiana against former state representative John Gregg. As expected, Gregg reacted on Thursday saying, "While I am personally pro-life, this legislation was not well thought out or properly vetted. If I was in the legislature I would have voted against it, and if I were governor today, I would have vetoed it."
While the law is set to take effect in July, Planned Parenthood of Indiana and Kentucky plan to ask a court to block the measure before it's implemented. Clearly, the pro-choice organization will contest the law on grounds that it conflicts with the preeminent legal precedent on abortion, Roe v. Wade.
[h/t WashingtonPost]
[Screengrab via ABCNews]
Have a tip we should know? [email protected]