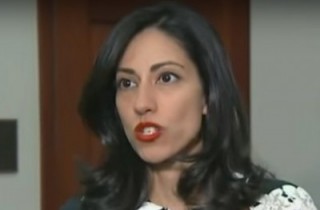 Conservative watchdog group Judicial Watch released 510 pages of newly-acquired State Department documents including emails from Hillary Clinton aide Huma Abedin from Abedin's non-government email account. The account was part of Clinton's private clintonemail.com system. Among the emails were requests for State Department favors from Clinton Foundation executive Doug Band that appeared to be met with acceptance.
One request from Band to Abedin was for diplomatic passports for himself and two unidentified people referred to as "jd" and "justy." Judicial Watch speculated that Justy is Justin Cooper, the former Bill Clinton aide and Clinton Foundation staffer who was allegedly connected to Hillary Clinton's email server. The request from Band said that he and the other two used to have them, but they lapsed. Abedin responded, "Ok will figure it out." This is despite the rule that diplomatic passports are only issued to "Foreign Service officer or to a person having diplomatic status or comparable status," their families, and U.S. Government contractors.
Another email exchange showed Abedin passing along a request from President Clinton to Hillary Clinton's scheduler, Lona Valmoro. Abedin told Valmoro that President Clinton wanted Hillary to see Dow Chemicals CEO Andrew Liveris. Dow Chemical had previously, donated between $1 million and $5 million to the Clinton Foundation, according to Judicial Watch. The email chain then shows Valmoro and Abedin arranging the introduction.
In a separate thread, Sidney Blumenthal suggests to then-Secretary Clinton that there be a Clinton Global Initiative meeting in Ireland. Clinton then forwarded Blumenthal's message to Abedin, Band, and Cheryl Mills endorsing the meeting, saying, "I think this is a good idea and see no conflict." This is despite Clinton's 2009 letter to the State Department's Deputy Legal Adviser, James Thessin, in which she said that, if confirmed as Secretary, she would not participate "in any particular matter involving specific parties in which the William J. Clinton Foundation (or The Clinton Global Initiative) is a party[.]"
Have a tip we should know? [email protected]