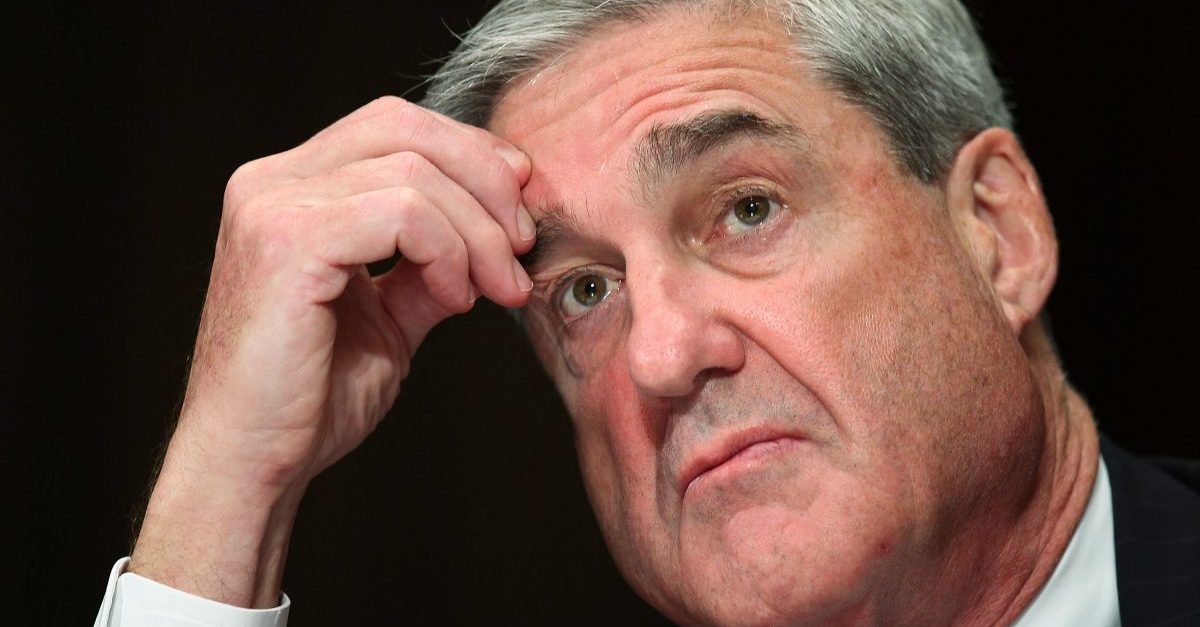 One charge that Special Counsel Robert Mueller has been criticized repeatedly for bringing against various members of the Trump campaign since his investigation began is the false statements charge. Time and again there have been disputes about whether or not a person really lied to investigators, and some of those disputes are ongoing (see Paul Manafort and Roger Stone).
But a second crime that has become a bit of a sore spot for those defending people ensnared by the special counsel's investigation relates to the Foreign Agents Registration Act, or FARA, as it is more commonly known. FARA popped up again recently because it was reported that American Media Inc., which threatened to expose Amazon founder/Washington Post owner Jeff Bezos' nudes, reportedly asked the Department of Justice last year if it had to register for publishing a pro-Saudi feature "The New Kingdom."
FARA earned itself a profile of sorts in Rolling Stone, which noted that FARA was passed in 1938 in no small part to combat Nazi propaganda. Russian military officers allegedly behind the 2016 DNC hack, Paul Manafort, Manafort's associate Rick Gates, Samuel Patten, and Michael Flynn have all been hit with FARA charges due to Mueller's investigation.
But what does FARA actually say, and why has Mueller prosecuted the statute so aggressively? First, here's what the law says.
22 U.S.C. § 611(b) makes it against the law to act as an unregistered agent of a "foreign principal." A "foreign principal" is:
(1) a government of a foreign country and a
foreign political party;
(2) a person [which includes a corporation] outside of the United States, unless it is established that such person is an individual and a citizen of and domiciled within the United States, or that such person is not an individual and is organized under or created by the laws of the United States or of any State or other place subject to the jurisdiction of the United States and has its principal place of business within the United States; and
(3) a partnership, association, corporation, organization, or other combination of persons organized under the laws of or having its principal place of business in a foreign country.
Career DOJ lawyer David Laufman told Rolling Stone that when he got involved at the National Security Division (NSD) he noticed that "there was a great deal more we could do to enforce the statute appropriately and in a more muscular way."
The Office of the Inspector General in 2016 happened to focus at length on FARA enforcement, and found that a disconnect in understanding of the relevant laws among people enforcing the law (agents and prosecutors) could explain why, over the decades, there were historically few FARA criminal prosecutions. The OIG report said:
During our audit, we found that the number of active FARA registrations peaked in the 1980s, with a high of 916 active registrations in 1987, and began to fall sharply in the mid-1990s. The Department has not performed an analysis on the decline, but NSD officials speculated that the imposition of FARA registration fees in 1993 and the passage of the Lobbying Disclosure Act (LDA), which carved out a significant exemption to FARA in 1995, were likely factors. In addition to the declining trend in registrations, we also found that there historically have been very few FARA prosecutions. Between 1966 and 2015 the Department only brought seven criminal FARA cases – one resulted in a conviction at trial for conspiracy to violate FARA and other statutes, two pleaded guilty to violating FARA, two others pleaded guilty to non-FARA charges, and the remaining two cases were dismissed. We were also told by NSD that the Department has not sought civil injunctive relief under FARA since 1991.

In discussions with several Federal Bureau of Investigation (FBI) counterintelligence agents and Assistant United States Attorneys (AUSA), as well as NSD officials, we found differing understandings between field agents and prosecutors and NSD officials about the intent of FARA as well as what constitutes a "FARA case." The primary difference stemmed from the belief of investigators that investigations conducted pursuant to a separate criminal provision, 18 U.S.C. § 951 (Section 951), were FARA cases. However, NSD officials stated that unlike FARA and the LDA, Section 951 can be aimed at political or non-political activities of agents under the control of foreign governments.
Later on in the OIG report, 14 conclusions are listed. Among these are methods of increasing FARA enforcement: "Update its current training for investigators and prosecutors to include information about the time it takes and the process used by NSD to approve or deny these types of cases for prosecution"; "Develop a comprehensive strategy for the enforcement and administration of FARA that includes the agencies that perform FARA investigations and prosecutions and that is integrated with the Department's overall national security efforts"; "Ensure that it timely informs investigators and prosecutors regarding the reasons for decisions not to approve FARA prosecutions"; and "Establish a comprehensive system for tracking the FARA cases received for review, including whether cases are approved for further criminal or civil action, and the timeline for approval or denial."
This is all a long way of saying that everyone needs to be on the same page and part of a coherent enforcement strategy. That the OIG saw fit to recommend ramping this up is not Mueller's doing. Mueller's investigative mandate, it has been noted ad nauseam, is broad in scope — Mueller is "authorized to prosecute federal crimes arising from the investigation of these matters" — and Mueller reports to the U.S. Attorney General, who, as head of the DOJ, is tasked with enforcing DOJ policies and objectives.
Sandler Reiff Lamb Rosenstein & Birkenstock's lobbying law expert, attorney Joshua Ian Rosenstein, told Law&Crime that increased FARA enforcement is something that has been going on since before Mueller was appointed in May 2017.
"I think this actually predates Mueller, at least in terms of DOJ's efforts to ramp up compliance," Rosenstein said. "Anecdotally we saw an increase in activity and rigor by the FARA unit for the past five-six years at least."
Rosenstein pointed to the aforementioned 2016 OIG report for perspective on this. As an agent of the DOJ, it makes sense that Mueller would seek to achieve DOJ objectives in a probe with national attention.
"In my view the Special Counsel's prosecutions (and those of other US Attorneys' Offices) came at a time when DOJ was already working on increasing both formal enforcement and more informal mechanisms," he said. "The Special Counsel shined a light on the law, which then led to increased media attention and Congressional scrutiny (which had begun back in 2016)."
Rosenstein said that those critical of FARA prosecution as "partisan" or a reach should be aware that FARA has been prosecuted before and enforced. He also noted some differences between how former Obama White House counsel Greg Craig was treated in regards to FARA and how Mueller has approached his cases.
Craig, you may remember, worked for the law firm Skadden, Arps, Slate, Meagher & Flom LLP. He left the firm under a cloud in April 2018 when it was reported that federal prosecutors in were considering charges against him after he was "linked to former Trump campaign chairman Paul Manafort" and Ukraine lobbying.
A settlement was reached whereby Skadden agreed to pay $4.6 million. Rosenstein noted the key difference here is that the settlement reached wasn't with Mueller but the National Security Division.
It's worth noting that, on Wednesday, accused Russian troll farm Concord Management and Consulting LLC saw its selective prosecution claim against Mueller disregarded by Judge Dabney Friedrich.
Concord tried to argue that the differing treatment of the aforementioned Skadden on FARA was proof of selective prosecution, but as we noted the Skadden deal did not involve Mueller.
Friedrich said that "evidence related to the Skadden 'deal' does not constitute a colorable claim of discriminatory intent" and that "Concord has demonstrated neither discriminatory effect nor discriminatory intent."
[Image via Alex Wong/Getty Images]
Have a tip we should know? [email protected]