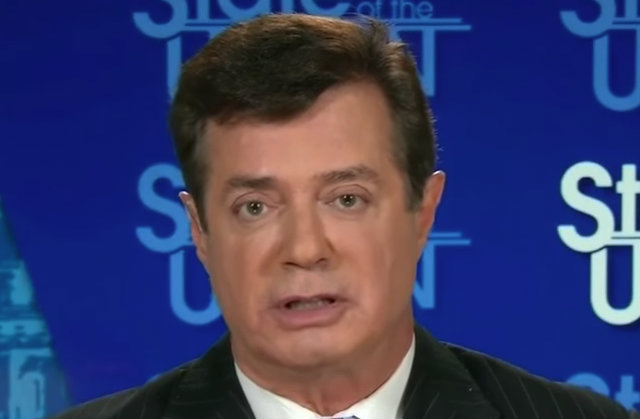 Lawyers for Paul Manafort apparently made a bit of an error Wednesday by including an internal memo in a public court filing. Manafort's attorneys are fighting the prosecution's attempt to change the court schedule, and as part of their motion, included a "Text of Proposed Order." Except, that's not what they included.
It was this: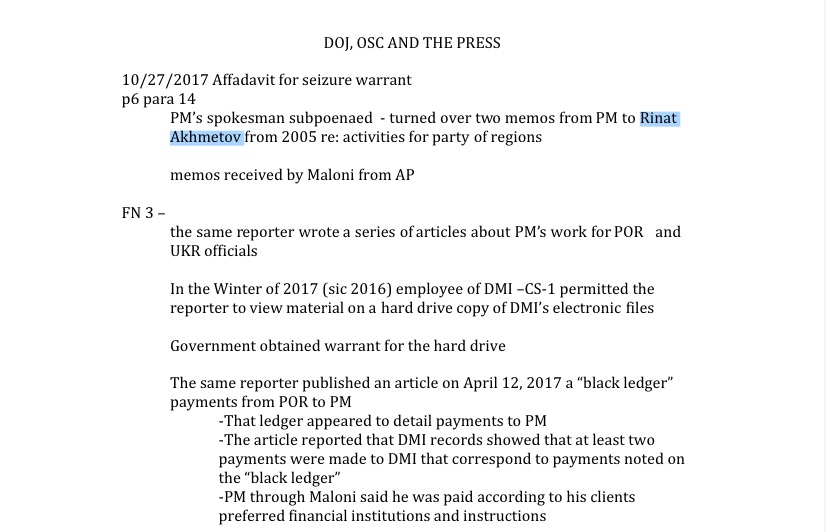 The document is titled "DOJ [Department of Justice], OSC [Office of Special Counsel] and "The Press. "
The notes on the document appear to specifically track news stories about the infamous black ledger. Because the notes are so cryptic, it's a bit hard to interpret what exactly the Manafort lawyers are after.
However, the Manafort team seems to be trying to figure out (or at least document) who was giving information to the Associated Press about Manafort's finances. The notes also suggest that federal investigators might have had an informant (CS-1) inside Manafort's company who was turning over information. In legal speak, usually when the feds denote "CS-1" they are talking about a "confidential source" that they are using in a case.
The memo reads, "In the Winter of 2017 (sic 2016) employee of DMI [Manafort's company]-CS-1 permitted the reporter to view material on a hard drive copy of DMI"S electronic files."
"The same reporter published an article on April 12, 2017 a 'black ledger' payments from POR to PM," it reads.
Indeed, the Associated Press published an "exclusive" about the "Black Ledger" on April 12, 2017.
Now, financial records newly obtained by The Associated Press confirm that at least $1.2 million in payments listed in the ledger next to Manafort's name were actually received by his consulting firm in the United States. They include payments in 2007 and 2009, providing the first evidence that Manafort's firm received at least some money listed in the so-called Black Ledger.
At the time, Ukrainian investigators called these payments "evidence of off-the-books payments from a pro-Russian political party."  Don't expect this document to be explained by Manafort's lawyers outside of court. The judge put a gag order on both sides. They aren't allowed to talk. The cryptic document is stirring several questions in the twittersphere.
Paul Manafort's lawyers just filed a motion to file something related to a scheduling issue, and the attachment is supposed to be a proposed order according to the docket, but it's something else https://t.co/PQUfJ4mSqo pic.twitter.com/HLVw9fYDdj

— Zoe Tillman (@ZoeTillman) January 24, 2018
Can anyone interpret these Paul Manafort notes? https://t.co/V59QZWuSS1

— Peter Sterne (@petersterne) January 24, 2018
Manafort, former campaign manager for President Donald Trump, is fighting federal charges related to his work with the Ukrainian government. Prosecutors charged him with money laundering, conspiracy to defraud the United States, failure to file reports of foreign bank and financial accounts, working as an unregistered agent of the Ukrainian government, making false and misleading FARA statements, and making false statements. The charges spun out of the special counsel's investigation into whether the Trump campaign colluded in Russia's 2016 election interference efforts, but the claims against Manafort occurred well before he became a member of the Trump campaign.
[Screengrab via CNN]
This article has been updated with more context about the memo. 
Have a tip we should know? [email protected]