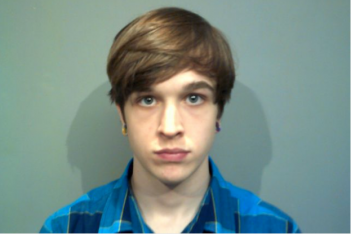 The Secret Service contacted the Connecticut State Police on Saturday after seeing a series tweets from an individual that threatened to bomb a Donald Trump rally in Waterbury, CT.
According to ABC News, the first Twitter post said, "Is someone going to bomb the Trump rally or am I going to have to?" A second tweet included a warning to the suspect's friend to make sure his family left the rally so they would not be injured.
After receiving the tip from the Secret Service, authorities from the Connecticut State Police Office of Counter-Terrorism say they tracked the tweets to Sean Morkys, 20, of Waterbury, CT. Authorities then located Morkys at his residence in Waterbury where he was interviewed by detectives from the State Counter-Terrorism Police and members of the Secret Service.
The Secret Service determined that Morkys did not pose an immediate threat to Donald Trump. However, he was still taken into custody and charged with first-degree threatening, inciting injury to person or property and second-degree breach of peace. He was later released on $25,000 bond pending his next court appearance in Waterbury Superior Court on May 4.
The arrest of Morkys seems to indicate that the Secret Service is more actively monitoring social media for threats surrounding Donald Trump campaign events. In March, left-wing activist Thomas Dimassimo was arrested after he attempted to rush the podium while Trump was speaking at an event in Ohio. After Dimassimo was arrested, authorities discovered what seemed like a missed opportunity. Dismassimo had sent out multiple tweets in the hours leading up to the incident about his plans to disrupt the Trump event.
[image via Connecticut State Police]
Have a tip we should know? [email protected]