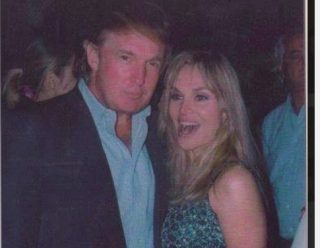 Hours before Sunday night's debate, Donald Trump paraded around various women who accused Bill Clinton of sexual misconduct in 1990's. In his "apology" for the lewd tapes that emerged this weekend, Trump said, "Bill Clinton has actually abused woman, and Hillary has bullied, attacked, shamed and intimidated the victims." In recent days, he's continued the theme that Hillary is an "enabler" who went after Bill's accusers. But as we have reported here, Donald Trump himself went after a woman who accused him of sexual assault. In fact, he's even reportedly sent his attorney after her too.
And this wasn't years ago, this was in July and February of this year.
That's when LawNewz.com published an interview with Trump's former business partner Jill Harth who accused Trump of sexual assaulting her in the 1990's. Just 8 minutes after our interview hit LawNewz.com and in the midst of the Republican National Convention, Trump got on the phone with us to go on the offense. Trump not only denied the allegations, but he also went after Harth. He told LawNewz.com that she was a woman who has "real problems." In addition, Harth told us Trump also sent his attorney after her to try to get her to change her story.
"I'm angry that he is saying this never happened," Harth told LawNewz.com during a July interview. "He could just say nothing.. Maybe I'm part of his dirty little past that he wants forgotten."
As LawNewz first unearthed in February, Harth filed a lawsuit against the real estate mogul in 1997 accusing him of sexual assault, including "groping" her under her dress on several occasions, "forcibly" moving her to his daughter's bedroom at Mar-a-Lago in an "attempted rape," and repeatedly and aggressively propositioning her for sex.
"It was in one of the children's room of Mar-a-Lago. He is showing this mural and the next thing I know he was pushing me up against the wall, and was making a move on me, and was all over me and again I was taken aback," Harth said.
Harth said that shortly after LawNewz discovered the original lawsuit back in February, she received a phone call from Trump's attorney, Michael Cohen, who, she says, encouraged her to stay quiet about the allegations.
"When your story broke, Donald stuck that lawyer on me right off the bat," Harth said, "He was out to protect Donald. He didn't care how this affected me."  Harth said that Cohen tried to get her to "re-understand" what happened.
"He was trying to turn it around like this was something different," she said, adding that Trump's attorney tried to convince her that Trump was just trying to "woo" or flirt with her.  "But I think if you try to woo a woman it is mutual. Not just push somebody up against a wall," she said.
In 1997, Harth withdrew her lawsuit after Trump agreed to a settlement with Harth's then-husband over a contractual dispute. Trump continues to deny the allegations.
"If you look in the National Enquirer, there was a story in there that she was in love with me. The woman has real problems," Trump told LawNewz.com in a phone call in July .  "It's ridiculous, I've never touched this woman."
Harth stands by her story. "He can say whatever he wants I know it's true, I am a part of his past he wants to forget," she said.
Regardless of what one thinks of the allegations, Trump has two problems in aligning with this group of accusers: 1) He didn't have such nice things to say about them back when their stories first broke and 2) It's tough to take the position that its outrageous that the women were attacked for telling their stories when Donald Trump did the very same thing. This summer.
Have a tip we should know? [email protected]
Rachel Stockman - President / On Air Host