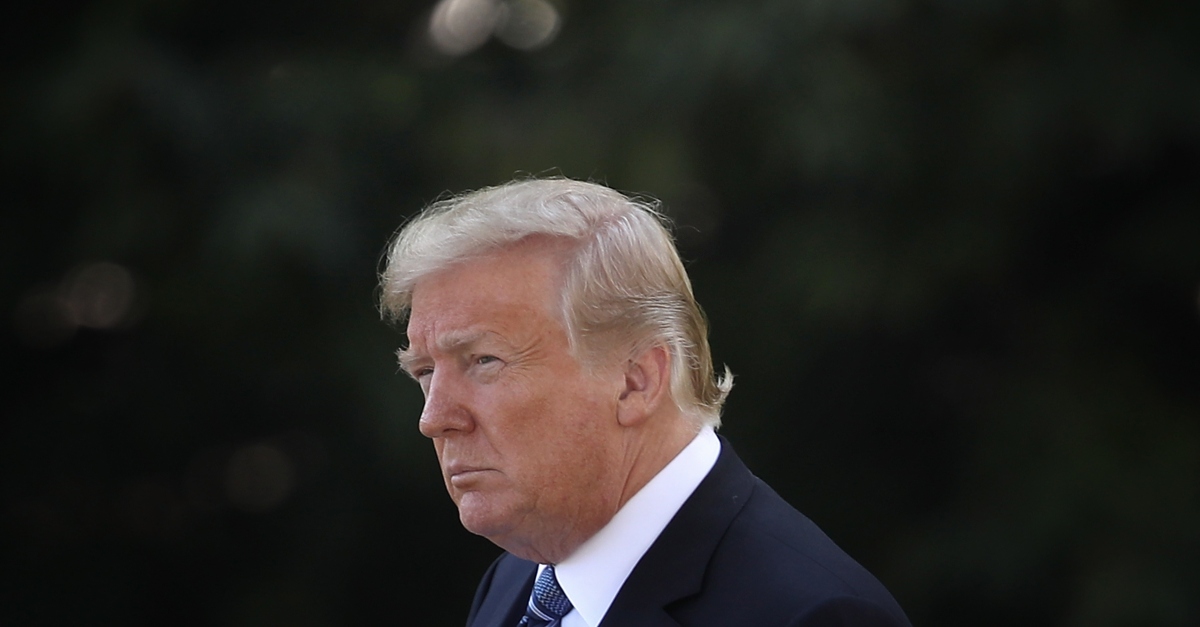 Congressional investigators announced on Monday that they have already served 81 separate document production requests to various individuals, entities and government agencies as part of an ongoing probe into alleged obstruction of justice by the Trump White House.
According to National Public Radio, the House Judiciary Committee is also focused on sundry corruption concerns including: (1) whether President Donald Trump or other members of his administration or 2016 presidential campaign violated campaign finance laws or financial reporting requirements; (2) whether any such individuals exploited or abused their office or position for personal gain; (3) potential misuse of the presidential pardon power and (4) whether any Trump administration officials abused their power generally by attacking the press, the judiciary or law enforcement.
Judiciary Committee Democrats have largely targeted members of Trump's inner circle–inside and outside of the White House.
Document production requests have so far been sent out to presidential sons Eric Trump and Trump Organization Executive Vice President Donald Trump Jr., Trump Organization Chief Operating Officer Matthew Calamari, Trump Organization Chief Financial Officer Allen Weisselberg, Trump Organization General Counsel Alan Garten and long-standing Trump executive assistant and Trump Organization vice-president Rhona Graff.
Other high-profile names on the list include perennially embattled White House aide and Trump son-in-law Jared Kushner, former U.S. Attorney General Jeff Sessions, former White House counsel Don McGahn and the president's inaugural committee.
This means that Trump's widespread business interests are on the Judiciary Committee's radar–if not the investigatory chopping block.
Additional entities subject to the document production requests include the National Rifle Association, data company Cambridge Analytica, the medium-sized empire of Kushner Companies, alleged Russian troll farm Concord Management and Consulting and the foreign non-profit publishing company known as WikiLeaks.
Investigators have given those contacted a March 18 deadline–exactly two weeks. Subpoenas may be next.
Mark Zaid runs a national security-focused law firm in Washington, D.C. In an email, he explained that such wide-ranging inquiries are actually nothing new for presidential administrations.
"President Trump is now feeling for the first time what it means to have a House of Congress in the hands of an opposing political party," Zaid told Law&Crime. "He will now face what prior Presidents of both parties have been forced to deal with, either being held accountable for offenses or bad decisions or harassed for partisan purposes. Time will soon tell which of those scenarios will emerge from the Democratic efforts."
Regardless of the reliably partisan tendencies of congressional investigators, Judiciary Committee Republicans are calling foul.
"We don't even know what the Mueller report says, but Democrats are already hedging their bets," Representative Doug Collins (R-Ga.) said." After recklessly prejudging the president for obstruction, Chairman Nadler is pursuing evidence to back up his conclusion because, as he admits, 'we don't have the facts yet.'"
National security attorney Bradley P. Moss is a partner at Zaid's law firm. In an email, he also noted how typical such requests are, while making sure to point out the atypical levels of crimes allegedly committed by Trump and others loyal to him.
"Elections have consequences," Moss told Law&Crime. "Every aspect of criminal, unethical or immoral behavior that was glossed over or ignored for the last two years will be scrutinized now. From the conspiracy to commit campaign finance felonies, to tax fraud, bank fraud and public corruption, the full range of issues revolving around Trump world will be brought to light."
Moss also had a warning for Trump's investigators:
The Democrats need to be careful, though: if they overreach, and make it ridiculously excessive, the public will punish them for it.
[image via Win McNamee/Getty Images]
Have a tip we should know? [email protected]