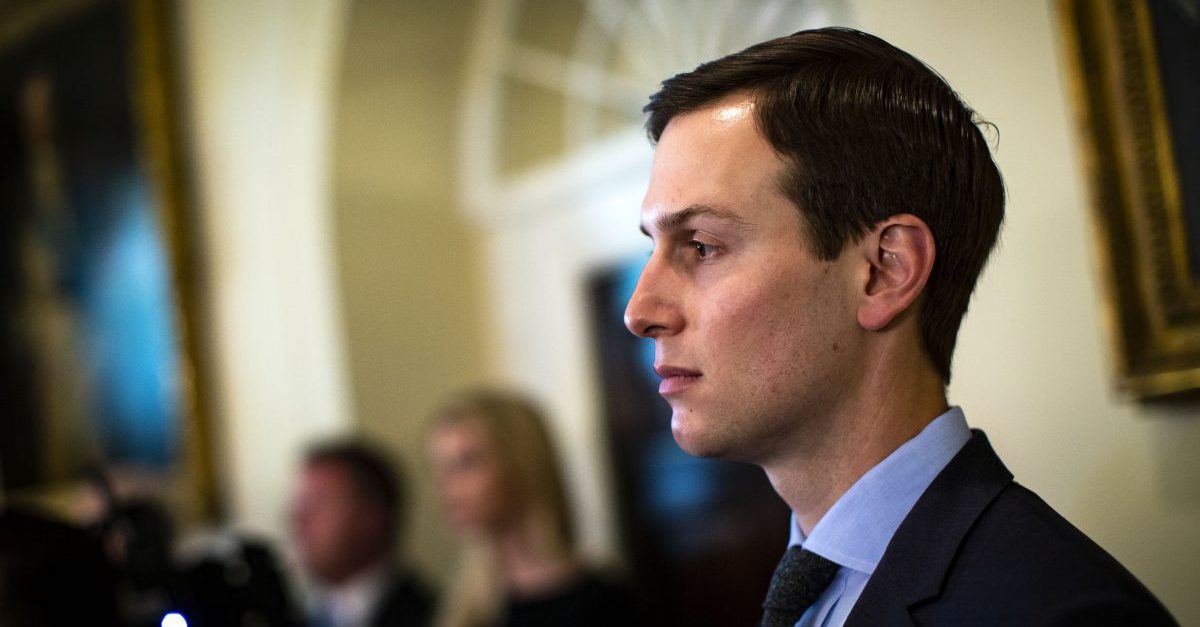 President Donald Trump reportedly overruled an entire phalanx of White House advisors in order to gift his son-in-law, Jared Kushner, a prized Top Secret security clearance in early 2018.
According to the New York Times, President Trump ignored the advice of Don McGahn, his top White House lawyer at the time, who penned a memo outlining his objections. Included in this memo were the objections of staff from the Central Intelligence Agency (CIA).
The report also notes that Trump "ordered" then-chief of staff John Kelly to grant Kushner the clearance. Kelly also authored a "contemporaneous internal memo" regarding the decision and the president's demand upon him–seemingly unhappy about it as well.
Trump previously said he was "never involved" with the Kushner security clearance. Ivanka Trump said the same.
The extent of why intelligence agencies might have a problem with any given person receiving a security clearance is essentially foreclosed against by the nature of the national security state itself. But, in Kushner's case, people have apparently been talking.
According to the Times, officials with both the Federal Bureau of Investigation (FBI) and the CIA were concerned about Kushner's business contacts with Israel, the United Arab Emirates and Russia–as well as several amendments to his security clearance application which initially failed to note that Kushner had taken two high-profile meetings with Russian nationals.
One such meeting was with Russian lawyer Natalia Veselnitskaya, who had allegedly promised "dirt" on Hillary Clinton. This was the now-infamous 2016 Trump Tower meeting. The second meeting was with Russian Ambassador Sergey Kislyak. Kushner said his original omissions were inadvertent, but his lack of forthrightness raised more than eyebrows.
Kushner was at first given a provisional security clearance that was later slightly upgraded. The head of White House personnel security noted the following in Kushner's file in September of 2017:
Per conversation with WH Counsel the clearance was changed to interim Top Secret until we can confirm that the DOJ or someone else actually granted a final clearance. This action is out of an abundance of caution because the background investigation has not been completed.
Things actually deteriorated for Kushner from there.
His interim Top Secret status was downgraded once security personnel started a wholesale review of security clearances in the wake of one-time White House staff secretary Rob Porter's domestic violence controversy. In response, Kushner and Ivanka Trump apparently complained to their collective father figure. Trump, in turn, reportedly started chewing people out.
Per the Times report:
In Mr. Kushner's case, Mr. Trump would often turn to other aides and say in frustration, "Why isn't this getting done?" according to a former administration official. On at least one occasion, the president asked another senior official if the person could sort out the issue. That official said no, according to this account.
Eventually, Trump overruled everyone around him and Kushner was given the clearance.
National security lawyers say this episode is both "highly unusual" and dangerous.
Washington, D.C. attorney Mark Zaid is managing partner of Mark S. Zaid, P.C., a practice focused on national security issues. In an email, he emphasized how rare such an intervention actually is.
"The president of the United States rarely intervenes in clearance decisions," Zaid told Law&Crime. "If this is what happened this is highly unusual and probably has very few modern day precedents. Most presidents would never consider doing something that potentially jeopardizes national security but President Trump has made it clear his family's interests come first. That said, as President he has the absolute authority to take this action and the only realistic remedy is 2020."
National security attorney Bradley P. Moss, who has authored a primer on security clearances and is a partner at Mark S. Zaid, P.C., explained how the process typically works.
"The security clearance vetting process is a sacrosanct component of how the U.S. Government decides who can be trusted with our Nation's classified secrets," Moss told Law&Crime. "The modern security clearance process dates back several decades and the determinations have virtually (if not actually) always been made by career civil servant adjudicators. The process is not perfect: it has flaws, it relies heavily on upfront disclosures for the majority of applicants, and is subject to human and monetary failings. It is, however, the process by which people are granted or denied access to classified information."
Moss also took Trump to task for his apparent intervention on behalf of Kushner.
"The President, according to recent media reports, has rendered this process irrelevant in his need to bring in nepotism hires like Jared Kushner. Line adjudicators at the White House said Jared Kushner should not get a clearance. John Kelly said he should not get one," he said. "The White House Counsel, Don McGahn, said he should not get one. They were all overruled by the head of the White House Security Office, allegedly proceeding on 'instructions' of some sort from the president."
"How direct and explicit those instructions were remains unclear and is obviously of particular interest in light of former Trump personal attorney Michael Cohen's testimony about Trump using 'code words' to express his views on how things should transpire," Moss added.
Moss stressed that the major problem here wasn't just that Kushner got his clearance, but that Trump allegedly got involved at all.
"If the President simply wanted Jared Kushner to get a clearance no matter what, he could have spared us all the time and expense of having the government vet Mr. Kushner," Moss said. "He could have exercised his constitutional authority to grant Mr. Kushner whatever level of access he deemed necessary and that would have been the end of it. That he chose to corrupt the long-established vetting process when it didn't give him the answer he wanted is one more example of the president's refusal to view him or his inner circle as subject to the law in a manner comparable to the rest of us."
[image via via Al Drago-Pool/Getty Images]
Have a tip we should know? [email protected]