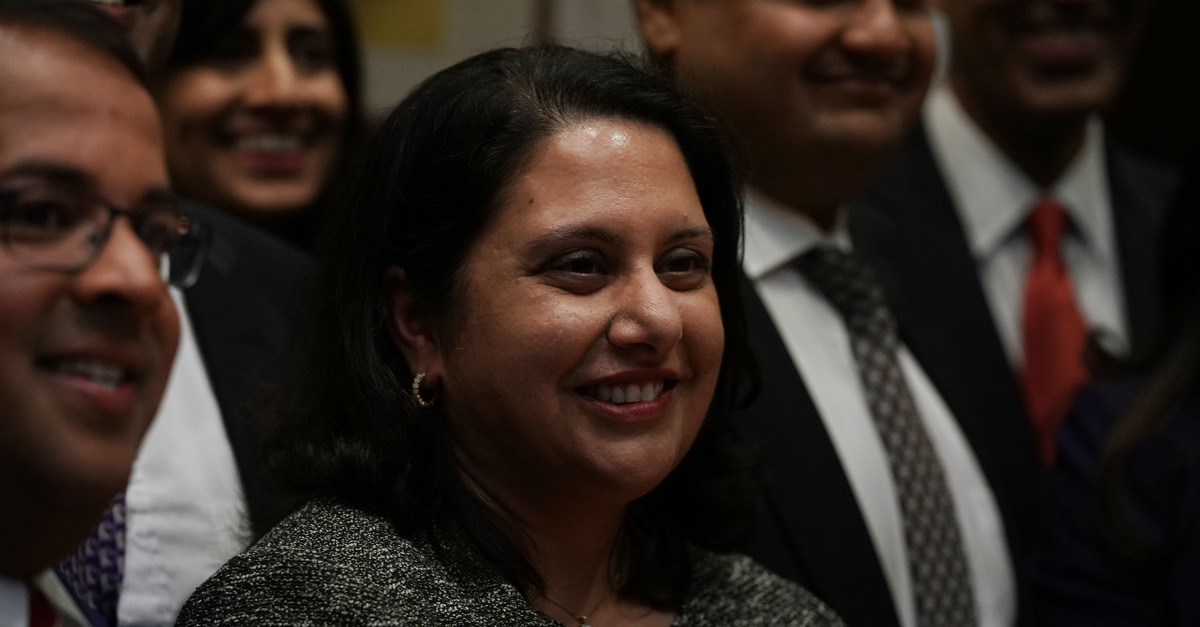 A vast array of left-wing and civil rights organizations are mobilizing against President Donald Trump's pick to replace Brett Kavanaugh on the D.C. Circuit Court of Appeals.
Neomi Rao currently serves as the administrator of the Office of Information and Regulatory Affairs within the U.S. Office of Management and Budget (OMB). As Law&Crime previously reported, Rao recently found herself subject to heavy criticism for a decades-old article in which she advised women to avoid drinking too much alcohol if they wanted to avoid being raped.
"A man who rapes a drunk girl should be prosecuted," Rao conceded. "At the same time, a good way to avoid a potential date rape is to stay reasonably sober. … Can the liberated '90s woman freely choose whether to drink or not? Unless someone made her drinks unquestionably strong or forced them down her throat, a woman, like a man, decides when and how much to drink. And if she drinks to the point where she can no longer choose, well, getting to that point was part of her choice."
Progressive critics assailed Rao's commentary as regressive and said she blamed victims of sexual assault for their trauma.
"By nominating Neomi Rao to the U.S. Court of Appeals for the D.C. Circuit, Donald Trump and his administration once again make his agenda very clear – he does not care about women, people of color, LGBTQ people, and the environment," said Toni Van Pelt, president of the National Organization for Women (NOW) in a statement provided to Law&Crime.
That statement also alleges that Rao simply has no commitment to equality:
Rao's previous articles, statements and opinions are proof that she does not belong on the federal bench because she simply does not believe in equality. The positions Rao championed for in her twenties are relevant today and must be taken seriously because they continue to guide her policy decisions, including her current work at OMB in the Trump Administration – such as rolling back Title IX protections. Rao is a true threat to the rights of millions of people, especially women and people of color, she must not be allowed to sit on the DC Circuit.
Now, on the eve of Rao's confirmation hearings before the Senate Judiciary Committee, progressive groups are hoping Senate Democrats take the fight to Rao over her past statements and actions.
A press release from Demand Justice–a left-of-center judicial advocacy group led by former Hillary Clinton campaign press secretary and Obama administration Justice Department alum Brian Fallon–contains a video of Rao's "worst hits" and urges the Senate to reject the controversial nominee.
"Neomi Rao is Donald Trump's pick to replace Brett Kavanaugh on what is often considered our nation's second-highest court," that statement signed by Demand Justice counsel Meagan Hatcher-Mays notes. "So, who is Neomi Rao? For starters, she's a victim-blaming and -shaming nightmare. She opposes racial justice, is a climate change denier, and is a Trump loyalist through and through."
Neomi Rao is Trump's pick to replace Brett Kavanaugh on the D.C. Circuit. Rao has a history of victim-blaming and shaming sexual assault survivors. Our very own @importantmeagan explains why the Senate must #RejectRao: pic.twitter.com/grmcgAjgzn

— Demand Justice (@WeDemandJustice) February 4, 2019
Alliance For Justice (AFJ), an organization opposed to right-wing judicial activism, also released a scathing report on Rao's record which highlighted a series of controversial statements and positions taken by Trump's would-be Kavanaugh successor.
"Neomi Rao's record of offensive statements about women, sexual assault survivors, LGBTQ people, people of color and the environment is matched only by her track record of advancing federal government policies that are deeply harmful to these same communities and interests," AFJ President Nan Aron said in a statement obtained by Law&Crime.
"It only makes matters worse that she is being named to the nation's second-highest court and to the seat once held by Brett Kavanaugh, who has faced credible allegations of sexual abuse," that statement continued. "Senators should understand that a vote to confirm Neomi Rao is a slap in the face to some of the most vulnerable people in our society."
The NAACP staked out similar territory against Rao.
"The Rao nomination is an insult to communities of color, women, persons with disabilities, and the LGBTQ community," said NAACP President Derrick Johnson in a statement. "In truth, the nomination is an insult to all Americans. This is the second most powerful court in the land. It has special duties in reviewing public protections involving the safety and rights of all communities. Replacing Brett Kavanaugh on this court with Naomi Rao is going from bad to worse."
"Neomi Rao is the last person who should sit on this court," Johnson continued before later saying, "We call on the Senate to reject Neomi Rao's nomination. She is unfit to serve as a judge anywhere and certainly on the D.C. Circuit."
[image via Alex Wong/Getty Images]
Have a tip we should know? [email protected]