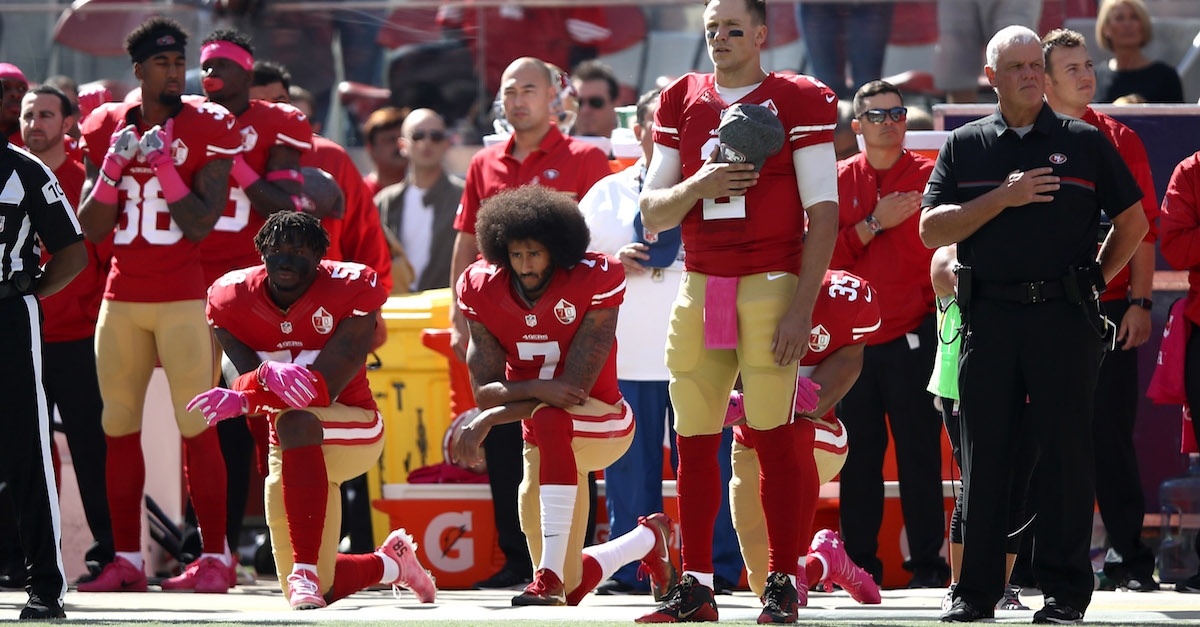 A lawyer for quarterback Colin Kaepernick reacted to the NFL's decision to require players to stand for the national anthem by suggesting that President Donald Trump or Vice President Mike Pence broke the law.
Mark Geragos very obviously trolled Pence on Thursday by tweeting "Winning!" and linking to U.S. Code.
18 U.S.C. § 227 clearly says that it is wrong for a member of Congress or employees of the legislative or executive branches (POTUS and Vice POTUS) may not wrongfully influence a private entity's employment decisions:
(a) Whoever, being a covered government person, with the intent to influence, solely on the basis of partisan political affiliation, an employment decision or employment practice of any private entity—
(1) takes or withholds, or offers or threatens to take or withhold, an official act, or
(2) influences, or offers or threatens to influence, the official act of another,
shall be fined under this title or imprisoned for not more than 15 years, or both, and may be disqualified from holding any office of honor, trust, or profit under the United States.
(b) In this section, the term "covered government person" means—
(1) a Senator or Representative in, or a Delegate or Resident Commissioner to, the Congress;
(2) an employee of either House of Congress; or
(3) the President, Vice President, an employee of the United StatesPostal Service or the Postal Regulatory Commission, or any other executive branch employee (as such term is defined under section 2105 of title 5, United States Code).
How do we know Geragos is trolling? Pence responded to the NFL requiring players to stand during the anthem by tweeting "#Winning."
https://twitter.com/VP/status/999348017244397568
Law&Crime host Amy Dash picked up on the Pence tweet late Wednesday and said the vice president was "feeding Kaep's attorneys with golden evidence of […] improper influence."
Pence notably made a point of walking out of a football game between his home state Indianapolis Colts and the San Francisco 49ers on Oct. 8, 2017. This was two weeks after Trump infamously said "get that son of a bitch off the field" while speaking in Alabama.
Kaepernick, who most everyone recognizes as the player who started protesting during the national anthem in 2016 and who hasn't been able to get a job since he opted out of his contact with the 49ers in May 2017, has weighed in on Twitter through Geragos .
His two most recent tweets at the time of this writing are retweets of Geragos.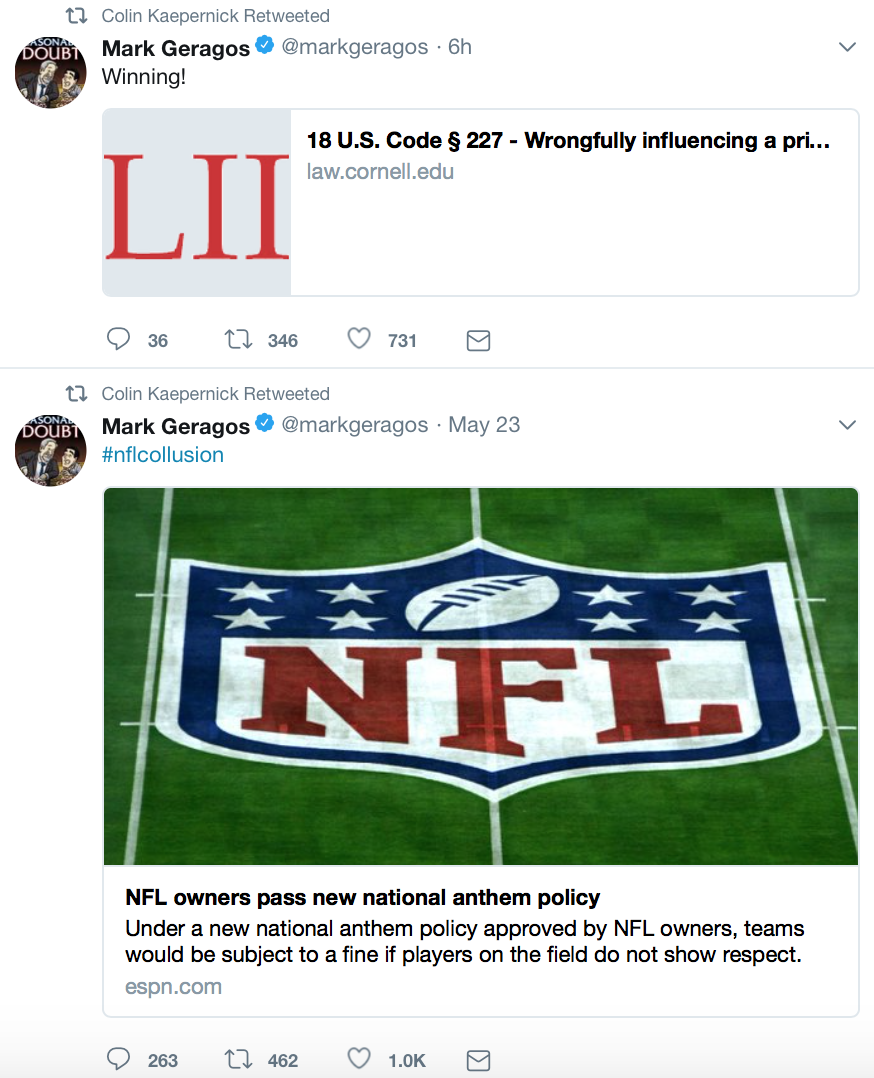 Shaun King, who hasn't had a good week as far as getting facts right is concerned, also shared an image of U.S. code, saying, "What Trump & Pence have done is illegal. It's a crime."
It would be impossible to argue that the NFL's decision was not influenced by Trump or Pence, since they publicly made stopping  kneeling during the national anthem their issue.
It's also clear from the New York Times' coverage of what was said in a NFL owners-players meeting that they needed to find a solution because Trump was railing against anthem kneeling and hurting their bottom lines.
"The problem we have is, we have a president who will use that as fodder to do his mission that I don't feel is in the best interests of America," Patriots owner Robert Kraft said. "It's divisive and it's horrible."
"All Donald needs to do is to start to do this again," Buffalo Bills owner Terry Pegula would add. "We need some kind of immediate plan because of what's going on in society. All of us now, we need to put a Band-Aid on what's going on in the country."
The owners reportedly agreed to the new national anthem policy "unanimously," though 49ers' owner Jed York abstained from voting.
Law&Crime has reached out to Geragos for additional comment.
[Image via Ezra Shaw/Getty Images]
Have a tip we should know? [email protected]