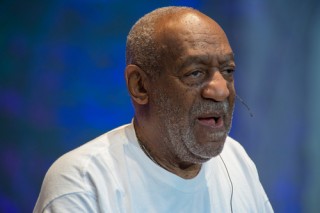 The decision that may very well seal Bill Cosby's fate in his prosecution for allegedly raping Andrea Constand is most likely not coming until 2017. To cap off a two day hearing, Judge Steven O'Neill told Cosby, his counsel, and the prosecutors on Wednesday that he won't rule on whether or not 13 of Cosby's other accusers can testify against him until after the upcoming holiday season. Cosby's trial is set for the Spring.
Prosecutors are trying to get other accusers' testimony admitted as "prior bad act" evidence at trial, to prove that Cosby had a "signature" pattern as a serial rapist that bolsters Constand's account. "This is a lifetime of sexual assault on young women," argued District Attorney Kevin Steele. "We ask the court to look at the remarkable similarities [between the different accusations]. That is an essential element to all of this. You have a situation in each case where it's a young woman. He is significantly older. He is married at the time. All but one of the women met the defendant through her employment. He acted as a mentor."
The two day hearing got particularly heated at times, especially over which of the non-Constand accusers could be identified in open court. Eventually, Judge Steven O'Neill ordered the defense not to name any of the women who haven't gone public. According to NBC News, that portion of the hearing on Tuesday that particularly contentious was when Cosby attorney Brian McMonagle entered as an exhibit an email from a non-public accuser which the defense got in discovery.
McMonagle argued that Cosby's other accusers, who are unable to press charges due to the statute of limitations expiring, do not have stories similar enough to legally constitute a pattern even if they were all raped by Cosby. He alleged that the only pattern was the women not coming forward until more recently and that several are represented by Gloria Allred. "This case was a way to try to vindicate, to vindicate what I would say to you is a bandaged bandwagon of claims that have been put together in Pandora's box," McMonagle argued. "You find ancient, remote, incredible, uncorroborated, bandwagon allegations."
McGonagle also argued that the prosecutors are using Constand by virtue of her being the only accuser with a case that hasn't fallen out of the statute of limitations. "Andrea Constand has never been the reason we're here; Andrea Constand walked away from this case 11 years ago," he said, alluding to the settlement of her civil lawsuit. "This is a means to overcome a statute of limitations because somebody decided to bang the drum with an American citizen."
[Photo: Shutterstock]
Have a tip we should know? [email protected]