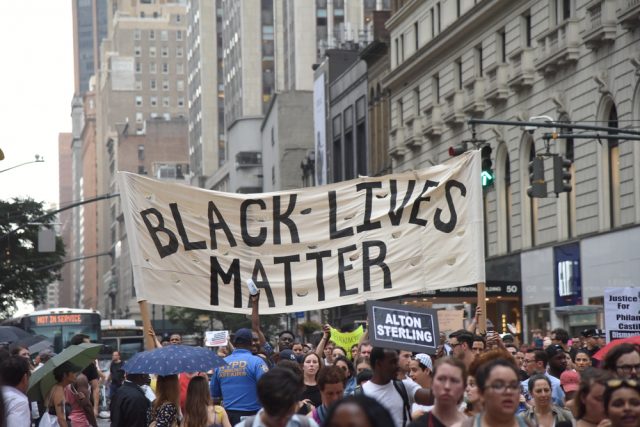 BATON ROUGE, La. (AP) — A federal judge says he intends to dismiss a lawsuit that accuses Black Lives Matter and several movement leaders of inciting violence that led to a gunman's deadly ambush of law enforcement officers in Baton Rouge last year.
U.S. District Judge Brian Jackson issued that warning in an order Wednesday, less than a week after ruling Black Lives Matter is a social movement and therefore can't be sued.
Last Thursday, Jackson threw out a police officer's lawsuit blaming Black Lives Matter and movement leader DeRay Mckesson for injuries he sustained during a protest over a deadly police shooting in Baton Rouge last year. The officer's lawyer also attempted to add "#BlackLivesMatter" as a defendant, but Jackson ruled a hashtag can't be sued either.
Now the judge is vowing to dismiss a separate suit filed on behalf of a sheriff's deputy wounded in the July 2016 attack that killed three other officers in Baton Rouge.
The same Baton Rouge-based attorney, Donna Grodner, filed both suits. The judge is giving her until Oct. 13 to respond to his order and present arguments why the deputy's case shouldn't be dismissed.
Grodner declined to comment Thursday on the judge's order or say whether she plans to appeal last week's ruling.
Mckesson and four other Black Lives Matter leaders were named as defendants in the suit that Grodner filed on behalf of one of the officers wounded in the July 17, 2016, attack by Gavin Long, a black military veteran from Kansas City, Missouri.
The suit doesn't name the plaintiff, but its description of the wounded officer matches East Baton Rouge Parish Sheriff's Deputy Nicholas Tullier, who was has been at a Houston rehabilitation hospital since November.
Long, a 29-year-old former Marine, was armed with a semi-automatic rifle when he killed three officers and wounded three others outside a convenience store and car wash near Baton Rouge police headquarters before he was shot dead.
Long had posted rambling internet videos calling for violence in response to police treatment of African-Americans, which he said constituted "oppression." He apparently posted a YouTube video from Dallas on July 10, three days after a sniper killed five officers and wounded nine others there.
The attack came less than two weeks after a white Baton Rouge police officer shot and killed Alton Sterling, a 37-year-old black man. Mckesson was one of nearly 200 people arrested in Louisiana's capital at nightly protests after Sterling's death.
The wounded deputy's lawsuit claims Mckesson was "in charge of" a July 9 protest that "turned into a riot" and described Long as an "activist whose actions followed and mimicked those of" the sniper who killed officers in Dallas,
But the judge said that latter claim is "not altogether relevant." Otherwise, the judge wrote, the lawsuit is "devoid of any facts that tend to demonstrate that any of the named Defendants, in particular, are liable for the alleged injuries suffered by Plaintiff, even assuming that those Defendants have the capacity to be sued."
[image via screengrab]
Have a tip we should know? [email protected]