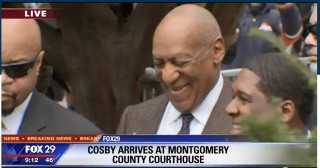 LawNewz.com's Beth Karas is at Bill Cosby's hearing in Pennsylvania. She contributed to this report.
Pennsylvania Judge Steven T O'Neill may decide soon on whether or not to dismiss the criminal case against Bill Cosby in Pennsylvania. Cosby's attorneys contend that a promise not to prosecute by a former district attorney prevents the case from moving forward. Former Montgomery District Attorney, Bruce Castor, testified Tuesday that he didn't think there was enough evidence to charge Cosby back in 2005. Cosby says he only waived his right not to incriminate himself during a civil deposition because of the alleged agreement. Andrea Constand says that Cosby raped and drugged her more than 10 years ago. She filed a lawsuit against him, and prosecutors want to use Cosby's deposition in that case as evidence of the crime. Many courtroom observers are reporting that the judge may not be buying into the defense's argument that the entire case should be thrown out because of this agreement.
Here are some indications from the judge that Cosby might NOT be off the hook yet:
Judge O'Neill said only a small part of the Bill Cosby affidavit included his civil deposition. The state is also relying on statements from 2005 from both alleged victim Andrea Constand and Bill Cosby. Judge O'Neill said in court, "You brought it up. The statement of probable cause includes extensive statements by Ms. Constand and Mr. Cosby. The state is relying on statements from 2005 from both of them. They also said they will rely on the deposition which can be subject to suppression." This is an indication that the judge is considering not dismissing the case all together — but, instead, preventing prosecutors from using Cosby's civil deposition in their criminal case.
On Tuesday, the judge seem to "puzzled" over testimony of former Montgomery County District Attorney Bruce Castor, and he asked him lots of questions when he was on the stand. Castor testified that he didn't think there was enough evidence to charge Cosby, and that he believed that Constand would be better off suing him.
Judge O'Neill continues to pepper the defense witnesses (including Cosby's attorney) with questions throughout the hearing.
Stay with LawNewz.com for coverage from the courtroom.
[h/t and screengrab Fox 29 in Philly]
Have a tip we should know? [email protected]
Rachel Stockman - President / On Air Host