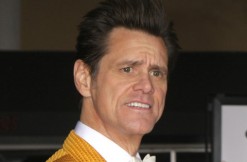 A lawsuit filed Monday claims that actor/comedian Jim Carrey is not only responsible for ex-girlfriend Cathriona White's overdose death, but covered up his role. Her husband Mark Burton filed in the County of Los Angeles, and his lawyer Michael Avenatti made the announcement.
At 8:55 a.m. this morning, we filed suit against actor Jim Carrey for his role in C. White's death. @TheCDZ @meerajag @RoseWebber @AP

— Michael Avenatti (@MichaelAvenatti) September 19, 2016
Here's the claim. Carrey illegally brought prescription drugs under a fake name, "Arthur King," and gave them to White "despite the fact that he knew full well that Ms. White (a) was ill equipped to ingest and manage highly additive prescription drugs outside the care of a licensed physicians; (b) was prone to depression; and (c) had previously attempted to take her own life."
The lawsuit states Carrey acted on an "obsession with controlling and manipulating White," using surveillance cameras to remotely monitor when she came or left home. Carrey and an assistant allegedly knew that she last entered her home on September 24 and hadn't left over over a day after that. "After learning of this fact, however, neither CARREY nor his assistant alerted authorities." White overdosed on drugs allegedly purchased by "Arthur King," aka Carrey.
As a matter of fact, White overdosed on drugs at a home in Los Angeles, California on September 28, 2015. She allegedly left a suicide note, and had recently broken up with Carrey.
Signing off Twitter, I hope I have been a light to my nearest and dearest. ✌🏼️❤️ to yo all

— Cathriona white (@littleirishcat) September 24, 2015
We've reached out to the actor and will update when we get a response.
[h/t The Daily Beast]
[image via Helga Esteb and Shutterstock]
–
Follow Alberto Luperon on Twitter (@Alberto Luperon)
Have a tip we should know? [email protected]