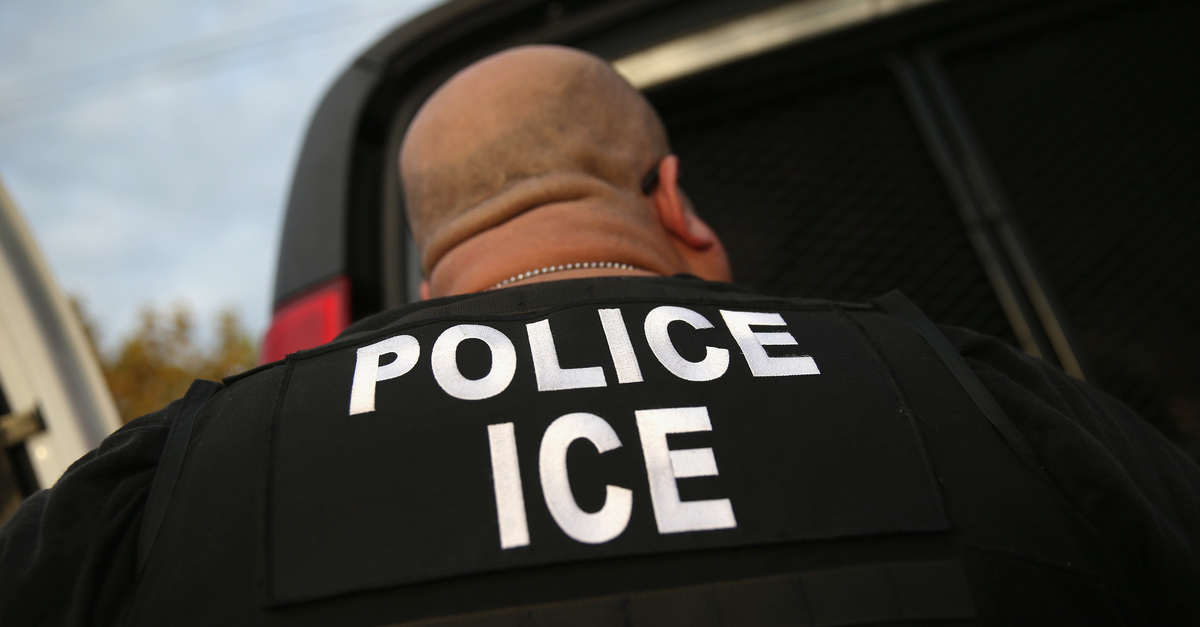 Immigration and Customs Enforcement (ICE) agents are conducting surveillance operations against "anti-Trump protests" in New York City, according to documents from the agency itself.
According to the left-of-center periodical The Nation, ICE agents have been tracking protests: (1) broadly in favor of immigrants' rights; (2) protests specifically opposed to the Trump administration's stepped-up deportation priorities; and (3) one protest that targeted the National Rifle Association (NRA).
One such protest was even organized by a sitting member of Congress.
Rep. Adriano Espaillat (D-NY) put together a rally in Upper Manhattan's Fort Tryon Park–which is on the National Register of Historic Places–last summer. That rally, "Uptown Standing Together Against Racism and Xenophobia," was a direct response to a recent gathering of white supremacists from the alt-right and neo-Nazi Identity Evropa clique who had gathered in the same park just days earlier.
Espaillat is a former undocumented immigrant himself and explained that his rally "was about unity [and] about pushing back against hate and telling our immigrant neighbors, our Latino neighbors, our Jewish neighbors that we will always stand with them if they are targeted by racist and anti-Semitic groups."
This rally was subjected to the prying eyes of the state–though seemingly far outside the mandate that ICE has within the country.
A July 31, 2018 email sent out by ICE's Homeland Security Investigations (HSI) division to multiple undisclosed recipients featured an attachment labeled "Anti Trump Protest Spreadsheet 07 31 18 – – -.xlsx" which contained the names of several progressive organizations opposed to the Trump administration's hard-line immigration agenda.
Those groups ran the gamut of progressive coalition politics. Whereas some groups targeted by ICE HSI were explicitly pro-immigrant, others simply identified as progressive, anti-consumption, anti-fascist, pro-science or as LGBTQAI in focus. Each group, however, had planned to protest deportations, rally generally in favor of immigrants and/or in opposition to ICE specifically–and, again, on one occasion the NRA.
The spreadsheet also contained the dates, times and locations of the "anti-Trump" actions planned in New York City last summer as well as the number of people who had said they planned to go on Facebook. The data set also offered a proposed "Reason" for each event's inclusion.
One reason being:
Protest against "Identity Evropa", a white supremacist group that recently hung a banner that stated, "Stop the Invasion, End Immigration".
Another reason cited:
Protest outside the Dept. of Homeland Security conference. Tell speakers VP Pence & DHS Secretary Nielsen to reunite the families seperated [sic] through their anti-immigration [policies]
The email itself contained a brief message to its recipients:
All,

Please see the below listing (full spreadsheet attached) with updated protest information. Please remain vigilant and aware of your surroundings.
Those targeted by ICE HSI voiced extreme disdain with the agency's actions.
"I am shocked. Totally shocked," Espaillat told the Nation. "I would like to find out why our event was on that list, and whether it was surveilled or infiltrated, and why the racist, anti-Semitic group was not on the list."
Ken Kidd is an organizer with Gays Against Guns–the sole group protesting the NRA included on ICE's dissent watchlist.
"It really is troubling to me," Kidd told the magazine. "How is a list like this compiled? Who makes the distinction that one group makes the cut and another one doesn't? Is it just a whim? It seems to me to be very dangerous. It is a terrible precedent."
Ravi Ragbir is the executive director of the New Sanctuary Coalition–one of the groups targeted by ICE. In an interview, Ragbir offered disturbing details about ICE's focus on pro-immigrant organizers.
"We suspect–we're ninety percent sure–that we were infiltrated," Ragbir said during a phone call. "Because ICE was recently able to counter our accompaniment training programs by blocking all access to the spaces where non-citizens report for meetings with deportation officers."
The New Sanctuary Coalition offers accompaniment trainings which pair U.S. citizen coalition members with undocumented immigrants. These trainings provide immigrants facing deportation a silent advocate as well as access to the outside world–as U.S. citizens can travel with immigrants to deportation hearings in order to witness potential abuses by immigration authorities and then alert others to the immigration status of the person in question.
"It was not coincidental–it was particular to the strategies that we use," Ragbir said. "It was really deliberate, the way that they countered our training. We suspected that and this [story in The Nation] confirms the infiltration and surveillance we believe we were under–especially with our actions, rallies, vigils and protests."
Ragbir also sounded the alarm on ICE's particular allegiance and lack of oversight:
It is distressing to learn that this agency is doing this–it's also disconcerting that the spreadsheet says "anti-Trump" rallies and not "anti-ICE" rallies, which suggests that ICE is a plenary agency–there's very limited oversight of this agency by Congress and the courts.
All of this is of a piece with ICE, Ragbir said, as DHS Secretary Kirstjen Nielsen recently "refused to answer questions" during a recent congressional hearing.
Law&Crime also reached out to Defending Rights and Dissent–an organization that wasn't targeted by ICE this go-round, but which is specifically keyed toward these sorts of police actions against dissenters.
"Defending Rights & Dissent supports calls to Abolish ICE and opposes domestic monitoring of First Amendment activity," a spokesperson said in a message. "The revelations that ICE kept a list of 'anti-Trump protests' is jarring since there is no conceivable justification for them to be engaged in this blatant political surveillance."
ICE, for its part, declined to answer specific questions about their spreadsheet, but issued the following statement to Law&Crime:
Regarding the July 31, 2018 email referenced in your query, it is important to note that Homeland Security Investigations special agents are regularly conducting field investigations in the New York city area. The referenced email was provided to HSI agents for situational awareness. Due to operational and safety implications, the agency does not discuss specific operational tactics. However, all investigative and enforcement activities are conducted with professionalism and strict adherence to all applicable law and agency policies. U.S. Immigration and Customs Enforcement, of which HSI is an operational component, fully respects the rights of all people to voice their opinion without interference.
[image via John Moore/Getty Images]
Have a tip we should know? [email protected]