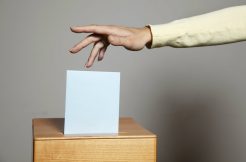 In September, a federal appellate court ruled that Ohio authorities were overzealous, and illegally purged registered voters who were simply inactive. But what would happen now? Well, on Wednesday, a U.S. District Court established a solution: provisional ballots.
Judge George C. Smith ruled that each vote will be evaluated in a case by case basis, and will be accepted if they meet four general criteria. Basically, the individual was purged in recent years, they must actually live in the same county as before, they aren't dead, they aren't locked up in prison, they aren't ruled by a court to have compromising mental disorders, and their ballot must follow relevant law.
Here's the precise wording of the criteria, filed in the U.S. District Court Southern District of Ohio, Eastern Division:
1. The individual's voter registration was cancelled in 2011, 2013, or 2015 (confirmation card mailed in 2007, 2009, or 2011) pursuant to the Supplemental Process;

2. The voter's provisional ballot affirmation reflects an address within that precinct and the voter was previously registered to vote within that same county prior to cancellation;

3. The board of elections does not have information that the voter was deceased, incarcerated on a felony conviction, or adjudicated as incompetent under Ohio law by a county probate court after the individual's registration record was cancelled; and,

4. The voter's provisional ballot affirmation form and the ballot otherwise comply with all applicable laws and directives.
According to the U.S. Election Assistance Commission, Ohio purged 846,391 voters from 2011 to 2014 because they hadn't passed ballots in years (this number doesn't include anyone who was cut for other reasons, like death). Okay, that's a lot of people, so how will this affect the upcoming 2016 general election?
Ohio is a so-called battleground state. President Barack Obama, a Democrat, took it in the 2008 and 2012 races. Then again, President George W. Bush, a Republican, won its electoral votes in 2000 and 2004. Recent polling suggests that projected front-runners Donald Trump and Hillary Clinton are running a close race there.
And the lawsuit in question has certainly been politically charged. The defendant, Ohio Secretary of State Jon Husted, is a Republican, while the Ohio Democratic Party recently filed an amicus brief on behalf of the plaintiffs.
And now, almost a million people can vote again. As a group, they hold the potential to change the result of any race, presidential or otherwise. If they bother to show up on Election Day.
[image via Lisa S. and Shutterstock]
–
Follow Alberto on Twitter (@Alberto Luperon)
Have a tip we should know? [email protected]