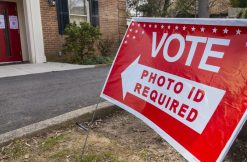 A federal judge ruled on Thursday that Virginia must extend its voter registration through Friday. A civil rights organization, The Lawyer's Committee for Civil Rights Under Law, sued after the state's online system glitched out shortly before the October 17 deadline. Too many people were accessing the website at once, and it crashed under the burden. Was everyone waiting until the last minute?
Funny thing is that state officials seemed to accept the plaintiff's demands, and therefore wanted an extension through Monday. Judge Claude Hilton decided no, Friday's enough since the computer problems only lasted a few hours. Virginia elections commissioner Edgardo Cortes, who was appointed by Democratic Governor Terry McAuliffe, told NBC Washington that people can register online or by mail postmarked no later than Friday.
The general election is scheduled for Tuesday, November 8. This is one of those battleground states you keep hearing about. Presidential races there have been close for decades. The last runaway victory was for Republican George H.W. Bush in 1988. When his son George W. took it in 2004, it was by only 262,217 votes. In 2012, President Barack Obama, a Democrat, edged out Republican Mitt Romney by just 115,910.
[image via Rob Crandall and Shutterstock]
–
Follow Alberto on Twitter (@Alberto Luperon)
Have a tip we should know? [email protected]