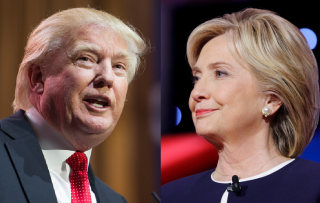 Harvard University Constitutional Law Professor Lawrence Lessig, who has been a vocal advocate of so-called "faithless electors," claims that 20 GOP members of the Electoral College are considering voting against Donald Trump when they meet on December 19. If this is true, and 17 more jump on board, this could change the outcome of the election. Lessig, who briefly ran for president in 2016,  sent out this somewhat mysterious tweet Tuesday night:
We believe there are now at least 20 GOP electors considering a vote of conscience. Last week, there was 1. https://t.co/fdiwkbef04

— Lessig (@lessig) December 13, 2016
Lessig is running a group called "Electors Trust" that "provides free and strictly confidential legal support to any Elector who wishes to vote their conscience."
"Obviously, whether an elector ultimately votes his or her conscience will depend in part upon whether there are enough doing the same. We now believe there are more than half the number needed to change the result seriously considering making that vote," Lessig said to Politico.  So far, the only GOP elector who has gone public with his decision to vote his "conscience" is Christopher Suprun. The Texas Elector penned a New York Times opinion about why he is snubbing Trump.
Lessig posted on Medium and explained why he believes the Constitution allows electors to veer from the popular vote:
Legally, or better, constitutionally, electors are free to exercise their "independent and nonpartisan" judgment, as Justice Jackson put it, however they wish. No state law can tell a presidential elector how he or she must vote, any more than a state law could tell the "electors," as the Constitution describes them, who select Congress (i.e., we voters) how we must vote. The Constitution sets the requirements for an elector; federal law regulates how electors act. Those are the only legal requirements that may, constitutionally, constrain an elector. Thus, on December 19th, by (what should be a secret) ballot, an elector can vote however he or she wishes, without fear of any legal consequence.
However, this plan is very controversial, as nearly half of states have laws on the books that prevent electors from going against the popular vote. Anti-Trump activists must convince 37 GOP electors to "flip" in order to force the election to go the House of Representatives. Right now, there are 306 Republicans and 232 Democrats that are scheduled to convene when the Electoral College meets in a few days.
Have a tip we should know? [email protected]
Rachel Stockman - President / On Air Host