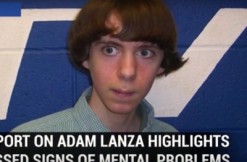 Freedom Group, which owns the AR-15 manufacturer Bushmaster Firearms, says they're not responsible for the Sandy Hook shooting. In a hearing scheduled for Monday, they'll ask a Connecticut judge to dismiss the wrongful death lawsuit filed by families of the massacre's victims.
The company says they're shielded by a 2005 federal law, which protects gun makers from lawsuits when their products are used in crimes. But the plaintiffs counter by saying there's an exception, allowing litigation against companies that understand, or should understand, that their products are likely to harm others. They say the AR-15 is way too dangerous for public sale. One of the attorneys told the Chicago Tribune that this suit seems like the first of its kind to claim the exception.
"The risk of a mentally unstable individual gaining access to an assault rifle and unleashing its military firepower on innocent civilians is not theoretical for Bushmaster. It's a fact," said attorney Katherine Mesner-Hage, when the suit was filed in 2014.
The plaintiffs are looking for monetary damages, among other things.
According to police, Adam Lanza killed 20 children and six employees at the Sandy Hook Elementary School in Newton, Connecticut on December 14, 2012. He used a version of the AR-15, his mother's legally purchased Bushmaster XM15-E2S rifle. His mother was the first to die at his hands that day, and he was the last, committing suicide when authorities reached the school. Investigators couldn't pin down precisely why he did it, though he was reportedly obsessed with mass shooters.
[h/t Chicago Tribune]
[image of Lanza via TomoNews screengrab]
–
Follow Alberto Luperon on Twitter (@Alberto Luperon)
Have a tip we should know? [email protected]