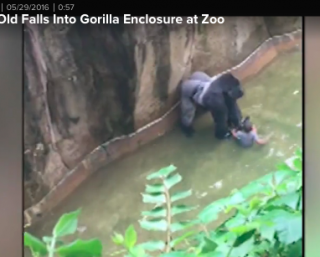 There is growing outrage on the internet after zoo officials were forced to shoot and kill a 450-pound gorilla after a young boy climbed into his enclosure over the weekend.
"We are heartbroken about losing Harambe, but a child's life was in danger and a quick decision had to be made by our Dangerous Animal Response Team," said Zoo Director Thane Maynard in a statement posted on Facebook. The gorilla was reportedly dragging and throwing the child. Zoo officials said they could not use tranquilizers on "Harambe" because they "do not take effect for several minutes and the child was in imminent danger. On top of that, the impact from the dart could agitate the animal and cause the situation to get much worse."
However, some still believe the gorilla's death was unnecessary, and are calling for the 4-year-old's mother to be held accountable. An online petition calling for 'Justice for Harambe' already has nearly 100,000 signatures. In addition several Facebook pages have popped urging the same.
"We the undersigned believe that the child would not have been able to enter the enclosure under proper parental supervision. Witnesses claim that they heard the child state that he wished to go into the enclosure and was actively trying to breach the barriers," the petition reads. The group faults 'parental negligence' not the action of zoo officials for what happened.
The boy's family released a statement according to Cincinnati.com:
"We extend our heartfelt thanks for the quick action by the Cincinnati Zoo staff. We know that this was a very difficult decision for them, and that they are grieving the loss of their gorilla."
Neither the boy nor the parents have been identified. The newspaper reports that the boy actually climbed through the barrier around the gorilla enclosure and fell 12 feet into the moat around the exhibit.
"Gorilla World opened in 1978, and this is the first time there has been a breach," zoo officials said.
Ohio Law provides for a misdemeanor of endangering children if a parent of a child under eighteen years of age creates "a substantial risk to the health or safety of the child, by violating a duty of care, protection, or support."
"I am not aware of any intentions to charge the parents of the child that entered the gorilla enclosure at the Cincinnati Zoo.  If I learn of any such considerations, I will let you know," Lt. Steve Saunders of the Cincinnati Police Department told LawNewz.com in an email.
Have a tip we should know? [email protected]
Rachel Stockman - President / On Air Host