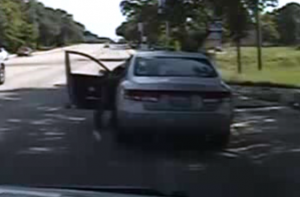 Texas police trooper Brian Encinia, the cop who arrested Sandra Bland in July, was hit with a perjury charge Wednesday. A grand jury thought he lied in his affidavit explaining the arrest. He wrote that he took Bland out of her car to continue his investigation. They didn't buy his story.
The perjury charge, a Class A misdeameanor, could stick him with a year-long sentence, and a $4,000 fine.
Bland had been driving from Chicago to a new job in Texas when Encinia pulled her over. The dash-cam footage of the arrest has become infamous.
Three days later, she was found dead hanging by a noose in her Waller County jail cell. Medical examiners ruled this a suicide. However, many observers, including Black Lives Matter activists, were outraged. They argued her arrest was improper, and that the circumstances of her dead were shady at best. It is ironic and sad, since Bland was a Black Lives Matter activist herself.
In December, a grand jury decided that no one was culpable for Bland's death. Nonetheless, her family is still suing Encinia, his employers at the Texas Department of Public Safety, Waller County, and two county jailers, Elsa Magnus and Oscar Prudente. That trial is scheduled to start January 2017.

–
>> Follow Alberto Luperon on Twitter (@Alberto Luperon)
Have a tip we should know? [email protected]