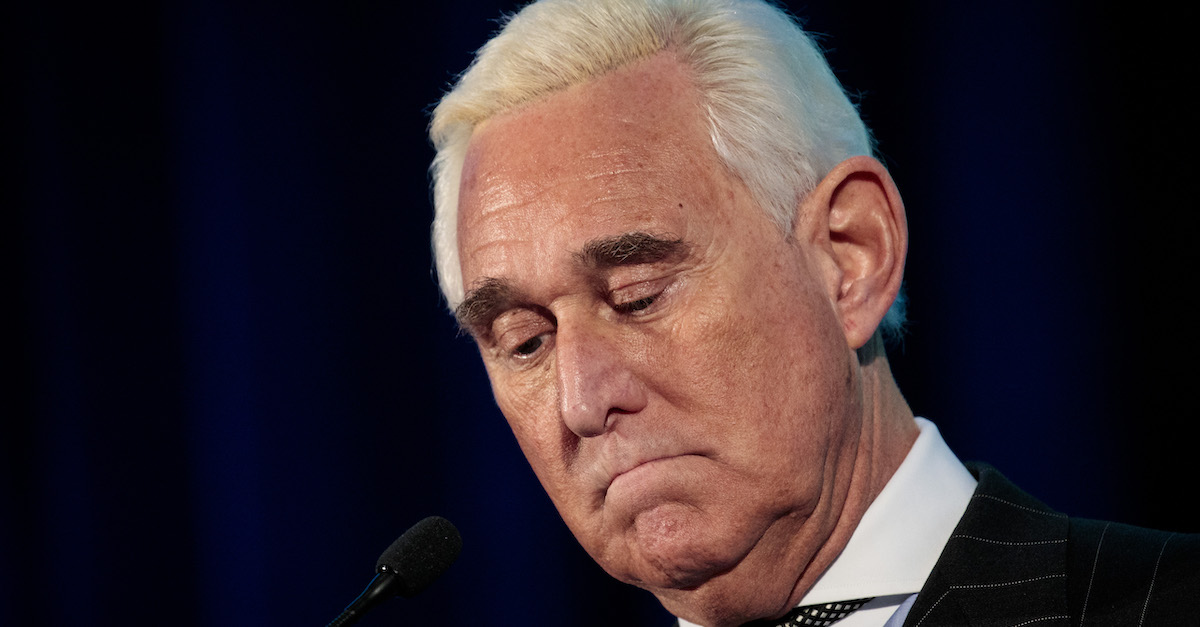 The New Yorker's Jeffrey Toobin, otherwise seen on CNN providing legal analysis, penned a wide-ranging interview that included quotes from Roger Stone on a number of subjects including the fate of Paul Manafort, the meaning of statements made to WikiWitness Randy Credico, and Stone's trial strategy heading forward. Here we'll breakdown the biggest takeaways.
Stone Defense Strategy
Roger Stone absolutely plans on testifying in his own defense. Actually, it will be a crucial component of his defense, Stone lawyer Bruce Rogow said. Stone, someone who firmly believes that staying silent makes people think you're guilty, will "definitely take the stand in his own defense," Rogow said, adding, "It will be key to the case."
Stone himself chalked up the legal predicament he is in as an elaborate plot by Democrats and Speaker of the House Nancy Pelosi (whom he referred to as "Leather Face") to put Hillary Clinton in the White House.
"Those who think the Mueller investigation will die out with a whimper are dreaming," he said. "This is a pretext to allow them to remove both Trump and Pence and replace them with Leather Face—I mean, Nancy Pelosi—and then she can appoint Hillary Clinton as V.P. That's been the agenda from the beginning." He said that will be on the attack in his defense.
"We're going to fight them on every piece of evidence, fight them on every witness. We are going to concede nothing," Stone said.
Stone faces seven counts including obstruction of an official proceeding, five counts of making false statements, and one count of witness tampering. The witness he's accused of tampering with (Credico) and the statements he's accused of lying about happen to involve WikiLeaks, which was the recipient of the documents allegedly hacked by Russian military intelligence.
Speaking of Randy Credico…
Stone disputed a specific characterization of his communication with Credico.
Remember in the indictment that Stone was accused of telling "Person 2″ to "do a "Frank Pentangeli," which was a reference to the movie The Godfather Part II, where a person testifying before Congress "claims not to know critical information that he does in fact know."
That "Person 2" was Randy Credico, and Stone claims that he was not telling Credico to lie, but to do his "Frank Pentangeli impression."
"But this is all wrong. Randy is an impressionist," Stone claimed. "He does impressions. I was asking him to do his Frank Pentangeli impression. I wasn't telling Randy to lie."
Credico himself was quoted in the article saying that Mueller and his people are amount to a veritable hydra of fictional savants in detective work. He also said, "they know what happened."
"I don't know why Roger gave up my name to them as his source about WikiLeaks," he said. "Why did he buckle without even getting a fucking subpoena? He gave up a name. That's called ratting."
"Those people are like Columbo and Sherlock Holmes and Hercule Poirot combined, and you can't fucking lie to them," he added. "Why would you try? They have all the e-mails. They know what happened."
Some Thoughts About Paul Manafort
The Stone and Manafort connection goes back decades, and though they had gone somewhat in their separate ways, Stone is well aware that the link will not disappear. Stone remembered Manafort, interestingly enough, as a guy who was "very familiar with the rules."
"Manafort and I are both from Connecticut, which was the last state in the country that still selects its candidates in statewide conventions," he said. "And the rules are identical to the national-convention rules, as are the Young Republican National Federation rules, as are the College Republican National Convention rules—so Manafort was very familiar with the rules."
He then alluded to Manafort's wealth, saying he was "rolling at a much higher level than yours truly." Stone further recalled thinking, as he was trying to assess what WikiLeaks had, that Manafort was "getting the shit kicked out of him for his business dealings in Ukraine."
A Word from Jerome Corsi on Birtherism
Right-wing author and conspiracy theorist Jerome Corsi was also quoted on a couple of subjects. One of them had to do with President Donald Trump. Corsi claimed that he spoke with Trump several times regarding his Barack Obama "birtherism research."
"He would call me, or they would e-mail me and say, 'Mr. Trump would like to speak with you,' and I would get a time and he would call and he would have some issues on his mind that he wanted to review, and the conversations would typically last ten, fifteen minutes—very polite," he said. Corsi, whose encounter with the special counsel memorably went from plea deal, to plea deal falling apart, to multi-million dollar lawsuit, to accusing Roger Stone of trying to give him a stroke, once again explained his support of Trump for the "Kafkaesque nightmare" he is experiencing.
"The United States under the Deep State masters has begun to descend into a political Hell that I previously thought could only happen under Hitler's Gestapo, Stalin's KGB, or Mao's Cultural Revolution. My particular Kafkaesque nightmare is nothing more than punishment for the crime of being a vocal supporter of Donald Trump and for having worked with Roger Stone to promote Trump's 2016 presidential campaign," he said.
Perhaps the most bizarre detail highlighted in the story was that Corsi was apparently scandalized that Mueller prosecutor Jeannie Rhee once wore a "see-through blouse" at a grand jury session.
"I was shocked to see that Rhee was wearing what appeared to be an expensive, possibly designer-made see-through blouse," Corsi said in an e-book on the Mueller investigation. "Maybe my seventy-two years were showing but I had never imagined any woman would appear before a grand jury exposing her breasts to public view through a see-through blouse."
[Image via Drew Angerer/Getty Images]
Have a tip we should know? [email protected]