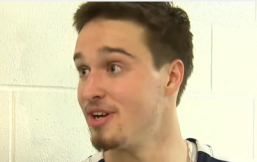 A former Yale basketball player says school administrators got it wrong when they expelled him for "nonconsensual sex." Jack Montague is suing Yale University in the U.S. District Court for the District of Connecticut. He claims he didn't commit "sexual misconduct," and shouldn't have been kicked out in February.
According to a statement from Montague's attorneys at Todd & Weld, Yale only expelled Montague, the basketball team's captain, to make an example out of him. A survey from the Association of American Universities had found the school lacking in how it handled sexual assault allegations.
"[Punishing] Mr. Montague – captain of Yale's basketball team and one of the most prominent male students on campus – was Yale's ticket to restoring its tarnished image," attorneys said. They claim at least one Title IX Coordinator was overzealous, broke rules, and manipulated the alleged victim in filing a formal complaint process.
You can read the full statement, obtained by LawNewz.com, here:
"The lawsuit is factually inaccurate and legally baseless, and Yale will offer a vigorous defense," the University said in a statement published Thursday. The school claims it only made the decision after "careful consideration," saying only one out of 10 investigations end in expulsion.
–
Follow Alberto Luperon on Twitter (@Alberto Luperon)
Have a tip we should know? [email protected]