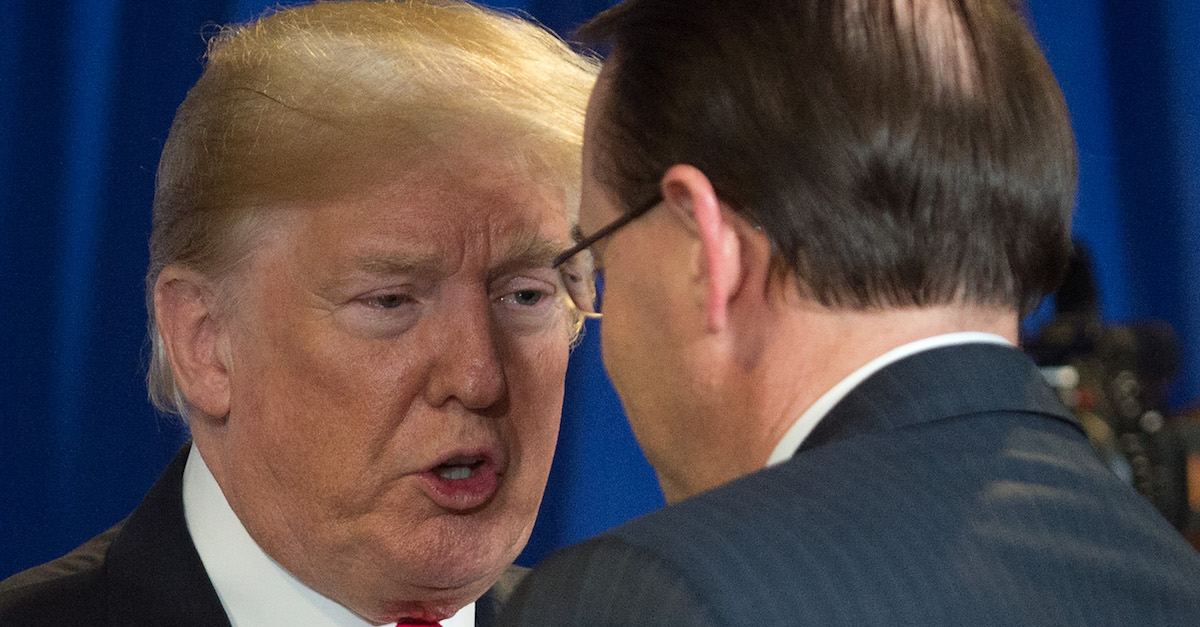 Former FBI General Counsel James Baker, who is under criminal investigation for media leaks, apparently didn't think that Deputy Attorney General Rod Rosenstein was joking about invoking the 25th Amendment to remove President Donald Trump from office. This revelation came out on Tuesday after House Republicans on the House Judiciary Committee, namely Rep. Doug Collins (R-Ga.), Rep. Jim Jordan (R-Ohio) and Rep. Mark Meadows (R-N.C.), released a transcript of Baker's Oct. 2018 testimony.
That testimony occurred around a month after the New York Times reported that Rosenstein proposed wearing a wire during meetings with President Trump and considered invoking the 25th Amendment. Back in Sept. 2018, Rosenstein said that was "Inaccurate and factually incorrect." People who were in the room, according to the Washington Post, also said the "wire" recording was a joke and that the 25th Amendment was not mentioned. The Justice Department also said it was a joke.
Baker didn't seem to think the 25th Amendment mention was a joke, but said he didn't think it was connected to the wire-wearing. Per the transcript:
Jordan: Was there anything talked about the 25th Amendment issue?

Baker: Yes.

Jordan: So both [the 25th and the comment about wearing a wire].

Baker: Yes.

Jordan: So both. And you took their conversation as completely serious that Mr. Rosenstein was serious about wearing a wire and recording the President for both of those reasons?

Baker: No, no. I didn't connect the 25th Amendment thing to the wire. Maybe it was my mistake mentally. I connected that more to the obstruction matter. The 25th Amendment conversation, my understanding was that there was a conversation in which it was said I believe by the DAG that there were — that there were two members of the cabinet who were willing to go down this road already.
But wait — there's more. On page 144 of the transcript, Baker said that fired FBI Director Andrew McCabe told him that at least two Trump cabinet members were on board with invoking the 25th. He also said he was under the impression that Rosentein was "upset," that this was "not a joking sort of time" but a "pretty dark" one.
Baker: To the best of my recollection he told me that the DAG said that he had at least two members of the cabinet who were ready to invoke the 25th Amendment.

Q: And what happened after that during that conversation? Did Mr. McCabe tell you anything else?

A: I am sure he told me other things in that conversation, but it was in part both of those things were relayed to me with other information with respect to the — what the DAG was going through at the time and how he was thinking about his involvement in the firing of Director Comey and how he was thinking about proceeding after that.

Q: Did people tell you that the DAG was upset?

A: Yes.

Q: Did they tell you that he was making jokes?

A: No.

Q: Did they tell you that —

A: This was not a joking sort of time. This was pretty dark.

Q: And did they — did Mr. McCabe explain to you in what context the 25th Amendment came up?

A: Again, I think the DAG was struggling with figuring out what to do in the aftermath of the firing of Director Comey, and he was talking about and saying lots of different things.
McCabe added fuel to the fire while on a book tour. Rosenstein, through a Department of Justice spokesperson, reiterated that, "based on his personal dealings with the President, there is no basis to invoke the 25th Amendment, nor was the DAG in a position to consider invoking the 25th Amendment."
It was also pointed out that McCabe "Did not tell the truth to federal investigators on multiple occasions, leading to his termination from the FBI."
Baker and fired FBI lawyer Lisa Page worked closely with fired FBI Director James Comey, including during investigations into Clinton's private email server and the FBI's own prior investigation into possible collusion between the Trump 2016 campaign and Russia. Baker notably cautioned Comey against publicly declaring that Trump was not a target of the Russiagate investigation, as Baker appeared to believe such a statement would have been premature due to the president's likely ties to Moscow.
After the FBI confirmed Baker's departure, Comey tweeted out a statement supportive of his old friend. He wrote, "A great public servant retired from the FBI today. Jim Baker's integrity and commitment to the rule of law have benefitted our country through 5 presidents, of both parties. We are fortunate he and so many others choose to devote their lives to justice."
[Image via SAUL LOEB/AFP/Getty Images]
Have a tip we should know? [email protected]