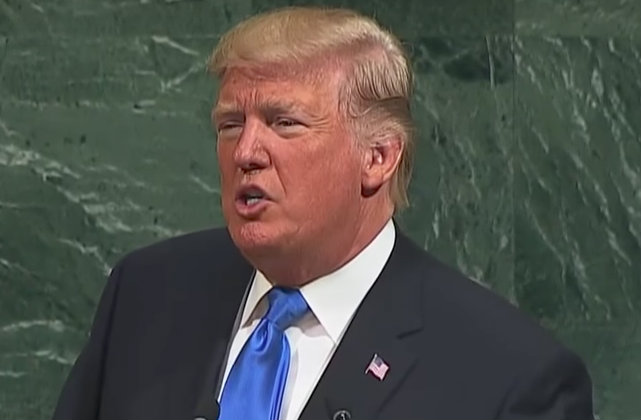 President Donald Trump started his Twitter day on Tuesday morning by quoting notable attorneys who have come out against the notion that — based on what we currently know — he is guilty of any illegal collusion or obstruction in connection to Russia. In response, a former Obama administration ethics lawyer claimed that not only is Trump guilty of collusion, he's doing it now, and "in plain sight."
Trump began by quoting law professor Jonathan Turley, who told Fox News:
I've been skeptical about the collusion and obstruction claims for the last year. I just don't see the evidence….in terms of the collusion, it's all a bit implausible based on the evidence we have.
The president next cited Ken Starr, known best for investigating President Bill Clinton.
"I have seen nothing, the firing of James Comey and all of the aftermath, that suggests that the President has obstructed justice because he's exercising his power as the President of the U.S." Starr said.  "I just don't see it."
Former White House ethics attorney Norm Eisen, who served under President Barack Obama before going on to become chair of CREW (Citizens for Responsibility and Ethics in Washington), doesn't quite see it that way. In his own Tuesday tweet, Eisen said that only is there a "devastating" case for obstruction against Trump, his failure to properly respond to Russia is itself collusion.
Sir, you are colluding in plain sight by refusing to prepare for the coming Russian attack. As for obstruction, we lay out the case against you here. It is devastating. https://t.co/v0lDIfNJMd https://t.co/Pqul1Tsxds

— Norm Eisen (@NormEisen) February 27, 2018
Eisen doesn't specify what Russian attack he's referring to, but implies that whatever it is, Trump's supposed failure to protect the country from it is equal to being complicit. This comes after Special Counsel Robert Mueller's indictment which illustrated an elaborate, years-long plot by Russian actors and entities who allegedly interfered in American politics by spreading messages under false identities during the 2016 election season.
As for obstruction, Eisen points to a report from October 2017 that he co-authored. That report claims that there is "substantial evidence" that Trump obstructed justice, although it does admit that Eisen and the other authors do "not yet know all the relevant facts."
[Image via NBC screengrab]
Have a tip we should know? [email protected]