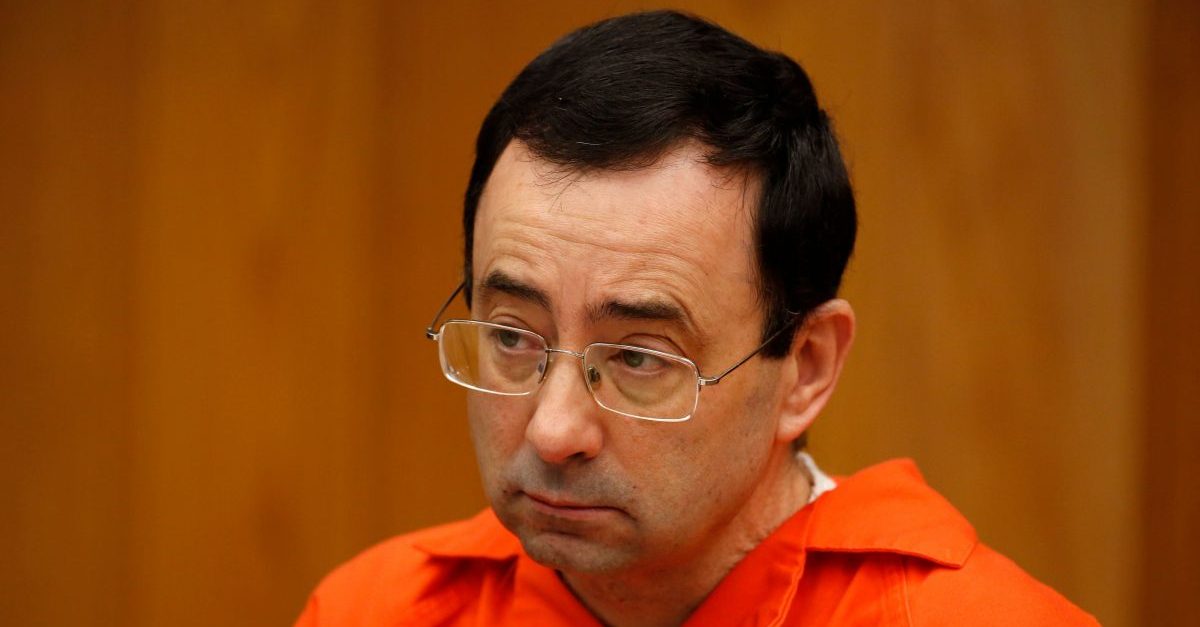 A former Michigan State University (MSU) field hockey player alleges in a new lawsuit that convicted serial sexual predator Larry Nassar drugged and raped her in 1992 during an appointment, had a cameraman film it, and got her pregnant. She also said that when she reported it to campus police she was told she should "just drop it" because then-athletic director George Perles was a "powerful man."
She was 17 at the time.
The Lansing State Journal reports that Erika Davis has filed a lawsuit, detailing the shocking allegations against Nassar, MSU officials and campus police.
Davis says that she reported the sexual assault to her coach Martha Ludwig and that Ludwig confronted Nassar about the video. Perles, still a MSU trustee, resigned in 1992 and allegedly "forced Ludwig to return the video, resign and sign a non-disclosure agreement."
Davis said Nassar impregnated her and was the only one who could have been the father. She also said that the pregnancy ended with a miscarriage. Davis alleged that she, accompanied by two friends, attempted to report the assault to the MSU Police Department in 1992.
She claims that police said they couldn't do anything about it because she was an athlete.
"The detective explicitly told them that he was powerless to investigate anything that takes place to the athletic department and to go to the athletic department," the lawsuit says. Furthermore, she alleges that the police sergeant said "'George Perles is a 'powerful man,' and she should just drop it," it being the allegation.
Davis later had her field hockey scholarship taken away from her, according to the lawsuit. Interestingly, current campus police chief Jim Dunlap called this "nonsense" even though he wasn't police chief at the time.
"It just doesn't happen," he was quoted in the Lansing State Journal story. "We just don't do things that way." Davis is saying, actually, it was done that way.
MSU responded to the lawsuit through a spokeswoman.
"We are deeply sorry for the abuses Larry Nassar has committed and for the trauma experienced by all sexual assault survivors. Sexual abuse, assault and relationship violence are not tolerated in our campus community," Emily Guerrant said.
"We are taking the allegations very seriously and looking into the situation," she added.
According to WILX, Davis lost her scholarship, suffered from anxiety and depression, and attempted suicide at unspecified time.
Davis said she repressed memories the assault until the depths of Nassar's depravity made national headlines in Feb. 2018. She said that she eventually found out that she was infected with the HPV virus that "caused her cervical cancer."
Nassar was sentenced to up to 175 years after a hearing in Ingham County, where he faced more than 100 women and girls who claimed that he abused them during medical treatments while he worked for MSU and USA Gymnastics. He was sentenced to up to 125 years in a separate but related case in Eaton County.
Both MSU and USA Gymnastics have been sued by hundreds of former patients who allege that they suffered abuse because the institutions failed to act. The school has already agreed to pay $500 million to settle claims.
Ronn Blitzer contributed to this report.
[Jeff Kowalsky/AFP/Getty Images]
Have a tip we should know? [email protected]