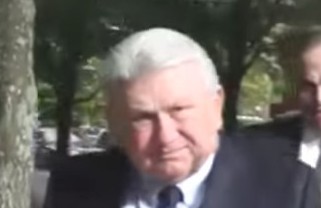 Federal prosecutors say a former district attorney used his position to pressure vulnerable women into sex.
Harry Morel was the DA for St. Charles Parish in Louisiana, serving from 1979 to 2012. Investigators say he misused his power, the Associated Press reports. He allegedly solicited sex from at least 20 women while he was in office, saying his office would go easy on them or relatives in trouble with the law.
"Harry Morel is nothing short of a sexual predator," said Jeff Sallet, an FBI special agent based out of New Orleans, according to the AP. "His days of victimizing the most defenseless among us are over. He has been brought to justice and will now pay for his crimes."
Investigators say their case was largely possible thanks to an alleged victim, 27-year-old Danielle Keim. A court filing obtained by the AP says Morel engaged in "inappropriate behavior" with Keim at her home after she was arrested on a drunken driving charge in March 2010.
She accused him of sexual assault in a 911 call.
"He grabbed me, he kissed me and he touched me in my private areas," she said. "He wanted me to take off my closes. He wanted me to take my pants off so he can please me."
Keim later agreed to help the FBI investigate Morel. Morel had allegedly agreed to help her out with a theft and drunken driving charges. Authorities were able to observe several meetings between the two of them, surreptitiously recording their conventions, and videotaping one instance at her home. Morel allegedly took two bottles of wine to that particular meeting.
Keim died of a drug overdose in 2013. Sallet said she "should be singled out for her tremendous bravery and resolve."
Morel pleaded guilty to a charge of obstruction of justice.
"Harry Morel could make things go away, but he wanted sexual acts in exchange," U.S. Attorney Kenneth Polite said in court, according to the AP. "We suspect that this pattern of conduct has been ongoing for many decades. In fact, we will never know the full extent of it."
Polite said the statute of limitations was one reason that more serious charges were not filed. The maximum sentence is three years in prison, but even that's not going to happen without more legal wrangling.
Morel's attorney, Ralph Capitelli, said in court that officials shouldn't have called Morel a sexual predator.
"That is both unfair, and in my judgement, impermissible," Capitelli said, claiming the statement was attempt to increase his client's sentence.
The sentencing hearing is scheduled for Aug. 17. Morel is out on bond pending that.
–
Follow Alberto Luperon on Twitter (@Alberto Luperon)
Have a tip we should know? [email protected]