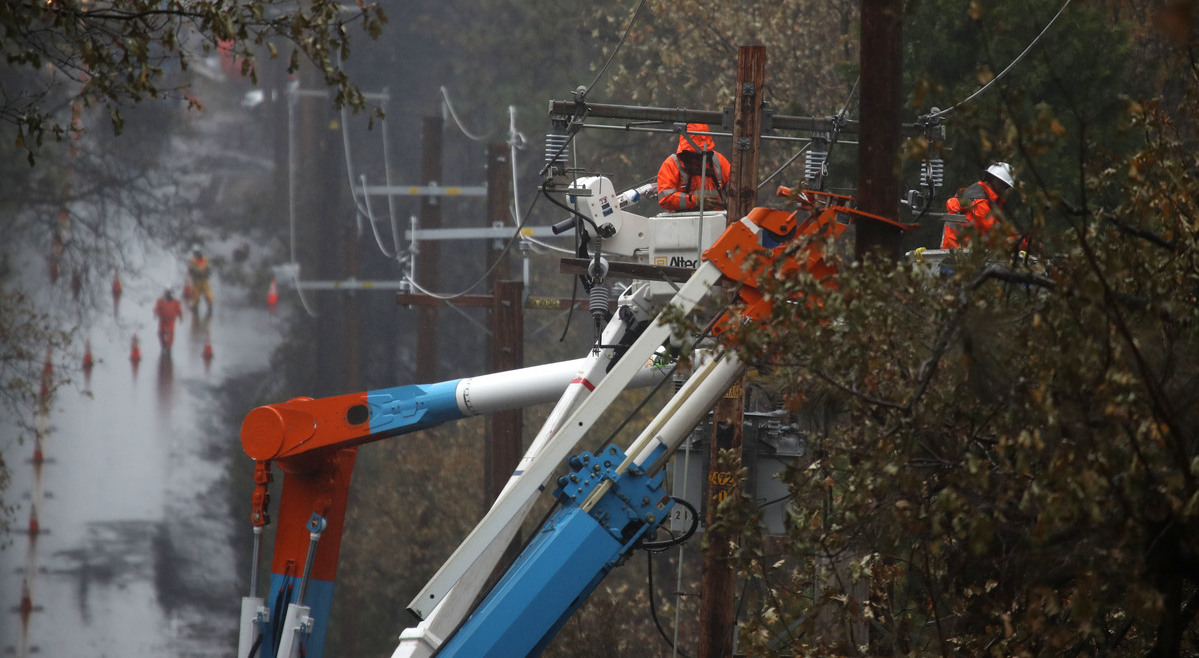 Federal prosecutors in California just told a federal judge that utility company Pacific Gas & Electric Co. (PG&E) may have violated its probation if the company's mismanagement led to a series of fatal wildfires in California.
This preliminary admonishment of sorts comes by way of a Monday filing with the U.S. District Court for the Northern District of California. In that filing, Assistant U.S. Attorneys Hallie Mitchell Hoffman and Jeff Schenk respond to a series of questions concerning a previously closed case involving PG&E's liability for infrastructure mismanagement. To wit, PG&E was previously found culpable for a 2010 natural-gas pipeline explosion in San Bruno, California that killed eight people–and the utility is currently on probation.
The prosecutors helpfully explains how this all works–both generally and specifically:
Corporations can be placed on probation and violate terms of that probation. After conviction at trial, PG&E was sentenced to probation for a term of five years. The Court included several terms of probation, including [that] PG&E shall not commit another federal, state, or local crime.
One problem for the utility here is that it's been suggested that November's massive Camp Fire was started by PG&E's faulty electrical infrastructure. In fact, California Attorney General Xavier Becerra alluded to this in a recent filing on the same case.
As Law&Crime previously reported, an investigation into the official cause of the fire is still underway. Fire crews, however, say that they first noticed flames directly underneath an active PG&E high-tension power line just miles outside of Paradise–the northern California town that was ultimately and all-but completely destroyed by the fire. And Becerra, for his part, went out of his way to note that PG&E could be liable for murder if the utility was found to have been responsible for the blaze–the deadliest in Golden State history.
Monday's filing by the U.S. Attorney's office comes on the heels of Becerra's apparent warning shot to PG&E.
"If PG&E's reckless operation or maintenance of its power lines started a wildfire, PG&E may have violated a condition of its probation," the filing reads. "As with all criminal defendants on probation, if PG&E is alleged to have violated a condition of probation, the district court must resolve two issues at a revocation hearing: (1) whether a violation of probation occurred, and (2) whether probation should be revoked as a result."
The filing continues and lays out a preliminary case against the utility company over additional wildfires:
While the California Department of Forestry and Fire Protection (CAL FIRE) has not yet issued findings concerning the 2018 Camp Fire in Butte County, in May and June of 2018, CAL FIRE released investigative findings concerning the causes of several of the October 2017 Northern California wildfires. The October 2017 fire season involved more than 170 fires and burned more than 245,000 acres in Northern California. CAL FIRE completed and released findings for sixteen fire investigations. CAL FIRE determined that the fires were started by various causes, including tree branches coming into contact with PG&E power lines, PG&E-owned power pole failures, a PG&E power line conductor that separated from a connector, and a downed power line that PG&E attempted to reenergize. In eleven of these investigations, CAL FIRE found evidence of alleged violations of state law.
"These facts, specifically if PG&E started a wildfire by reckless operation or maintenance of its power lines, may serve as a basis for the Court to find that the defendant corporation violated," various conditions of its probation, the filing alleges.
While somewhat accusatory, the filing also notes that prosecutors do "not have sufficient information" regarding PG&E's conduct–and therefore PG&E's potential liability–regarding the Butte County Camp Fire specifically.
"With regard to the Camp Fire and other 2018 Northern California wildfires, as mentioned above, the government does not yet have sufficient information concerning PG&E's role to determine whether PG&E's conduct may have violated its terms of probation," the filing notes.
Law&Crime reached out to PG&E's media relations department for comment on this story, but no response was forthcoming at the time of publication.
[image via Justin Sullivan/Getty Images]
Have a tip we should know? [email protected]