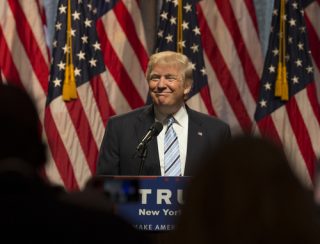 Federal Judge Ronnie Abrams has ordered a December status conference hearing after a woman, who calls herself "Jane Doe," filed a lawsuit claiming that Trump raped her when she was 13 years old in the 1990s. This is the third attempt the plaintiff has made in filing this particular lawsuit. Last Friday, she filed an amended complaint, with a new "witness" named "Joan Doe." The plaintiff and witnesses in the case are using pseudonyms, they say, to protect their identities.
"In the 1994-95 school year, I was told by the plaintiff in Jane Doe v. Trump and Epstein (1:16-cv-04642, SDNY) that the plaintiff was subject to sexual contact by the Defendants at parties in New York City during the summer of 1994," one of the witnesses said in a declaration.
The complaint alleges billionaire convicted pedophile Jeffrey Epstein had a woman pickup teenage girls for his famous parties. One of these girls was "Jane." Another witness, "Tiffany," who also provided an affidavit in the lawsuit, said she witnessed Trump and Epstein rape the plaintiff several times. Trump has repeatedly denied the allegations.
"As I have said before, the allegations are categorically untrue and an obvious publicity stunt aimed at smearing my client," Alan Garten, Trump's attorney, told LawNewz.com last week, "In the event we are actually served this time, we intend to move for sanctions for this frivolous filing."
Judge Abrams (who also happens to be the sister of LawNewz.com founder Dan Abrams) has called for a status conference hearing on December 16, 2016 (well after the election) at 11:30 am at the U.S. District Court for the Southern District of New York. She's asked for both sides to provide information that could assist the Court in advancing the case to settlement or trial.
Her order is embedded below.
Alberto Luperon contributed to this report. 
Judge Status Conference Order Jane Doe. V Trump by LawNewz on Scribd
[image via Shutterstock]
Have a tip we should know? [email protected]
Rachel Stockman - President / On Air Host