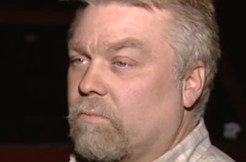 The Federal Bureau of Investigation is looking into several threatening e-mails and a phone call made to the Manitowoc County Sheriff's Office. It hasn't been confirmed if they are connected. In one, a man threatened officials while criticizing the office's allegedly corrupt behavior against convicted murderer Steven Avery.
"I live far from WI, but if I ever visit your [expletive] area of America, I will knock out one of your coward cops, and [former Sheriff's Lieutenant] James Lenk," a January 16 letter stated, according to the Green Bay Press-Gazette. "Guy better watch his back. Avery might be guilty but I have never seen police corruption so evident like in that case." The letter writer went on to say, "I will taste your [expletive] blood and your families too."
In response, Manitowoc County Sheriff Rob Hermann contacted the FBI. Special Agent Gerald Mullen determined that the January 16 letter might violate federal law.
"The decision to prosecute will be at the discretion of the US Attorneys [sic] Office," Mullen told Hermann in an email obtained by the Green Bay Press-Gazette. "I plan on opening a threat case and will get a subpoena to identify the subject who sent you this email. He will be receiving a visit from the FBI for an admonishment."
Also, records obtained by the Press-Gazette also show that a man allegedly called the Sheriff's Office pretending to be an FBI agent. In an e-mail to her bosses, a suspicious emergency dispatcher said she assumed "it was in reference of the Avery case." When an undersheriff called back the "FBI agent' later," the man acted shady before hanging up.
This case was also forwarded to FBI agent Mullen.
During Steven Avery's trial in the 2004 death of photojournalist Teresa Halbach, his attorneys accused Lenk and a colleague of planting and tampering with evidence. Avery was in the midst of suing the office at the time, in connection to his exoneration for a 1985 rape. These corruption allegations were a big deal to some viewers who saw Making a Murderer, a documentary that examined the purported miscarriage of justice.
The Press-Gazette reports that people worldwide have criticized the Manitowoc County Sheriff's Office in emails since December. Most e-mails were not threatening.
[screengrab via NBC]
–
Follow Alberto Luperon on Twitter (@Alberto Luperon)
Have a tip we should know? [email protected]