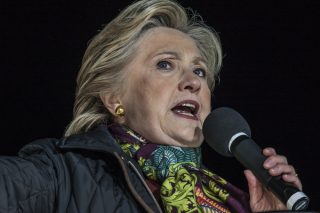 The Federal Bureau of Investigation on Friday afternoon quietly released another several hundred pages of documents related to its investigation of the former Democratic Party presidential candidate.
Wikileaks sent out a tweet drawing attention to the release about an hour ago, while most of America was likely watching the NFL Wildcard Playoffs or preparing to watch Jimmy Fallon host the 74th Annual Golden Globes Awards.
FBI quietly releases new Hillary Clinton investigation documents (part 5) [as yet, no announcement] https://t.co/lmyWF5rA8H

— WikiLeaks (@wikileaks) January 9, 2017
So far, few media outlets have picked up on the new release, found at the FBI's Vault website where it provides information about high profile Freedom of Information Act (FOIA) releases.  Wikileaks says the Vault was last updated on January 8 at 22:37 p.m. This is the fifth such release related to Clinton by the Vault. They have not made an official announcement on their website. However, an archive search by LawNewz, shows that the documents were not there as of Saturday.
The latest release contains information regarding computer hardware collected from Clinton's legal team as the lengthy investigation unfolded.  At first, Clinton was unwilling to surrender her private server, but hacked emails appear to show her team advised her to let the FBI take control of the materials.
Additional materials released on Sunday include email exchanges between FBI officials prior to of the official opening of the investigation.  Some emails also included arguments between State Department personnel and law enforcement officials, along with members of other government agencies.  The fights mostly appear to center on whether a document contains personal or classified information.
LawNewz will continue to review the latest documents and provide updates as they become available.
Requests to the Department of Justice and FBI spokespersons were not answered by press time.
READ the latest Clinton files HERE:
Hillary R. Clinton Part 05 by LawNewz on Scribd
[image via screengrab]
Editor's Note: An FBI Press Office spokesperson told LawNewz.com on Monday that the Clinton #5 File was added to the FBI Vault on Friday afternoon.  LawNewz also learned Monday that   any  future Clinton vault additions likely would not be accompanied by a media notice.
Have a tip we should know? [email protected]