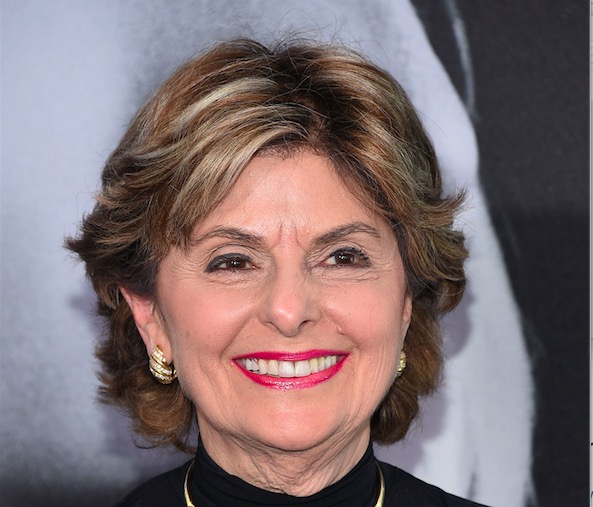 LawNewz.com has confirmed that famed attorney Gloria Allred is the subject of a second bar investigation into allegations of misconduct.  The latest probe, in Washington, D.C., appears to center around her handling of a local television weatherman's discrimination case. As we reported in March, Allred is also facing an investigation by the State Bar of California for alleged legal malpractice surrounding the same case.
Kyle Hunter, the local television personality, hired Allred to sue CBS for allegedly discriminating against him in favor of younger, attractive female meteorologists. He contends she botched his legal case, and didn't properly notify him that she was working with CBS to produce a legal drama inspired by her life — an obvious conflict of interest, he claims.
"Gloria Allred severely injured me and my family and refuses accountability. I am very pleased that The State Bar of California and the Washington D.C. Bar are taking their investigations into Ms. Allred very seriously. I applaud their professionalism and duty to the public's protection," Hunter told LawNewz.com in a statement.
According to documents viewed by LawNewz, the D.C. Office of Disciplinary Counsel opened the investigation, and has been gathering evidence since May.
"Anyone may file a complaint against any lawyer in any state or jurisdiction in which a lawyer is licensed. This complaint which Mr. Hunter filed with the Washington, D.C. bar some time ago is the same complaint that he filed with the California Bar.  All Bars investigate all complaints against lawyers. This is routine and expected," Allred said in a statement to LawNewz.com. 
Allred contends that Hunter, who has also filed a lawsuit against her, is trying to shake her down.
In response to the lawsuit in June, Allred sent us the following statement:
Mr. Hunter has been threatening to sue our law firm for approximately one year in an attempt to get our law firm to pay him money which he is not entitled to.   We represented Mr. Hunter vigorously and with devotion and with the  utmost integrity.  We advanced his case through all the courts in California, including two attempts to have his case heard in the California Supreme Court.  He has no valid claim against our law firm or its partners and we will pay him nothing for his worthless claims.  We will vigorously defend ourselves and we believe that we will prevail.
Hunter contends that Allred, and other attorneys at her firm including Michael Maroko and John West, failed to interview witnesses and provide affidavits in his suit, which would have greatly bolstered his case. As a result, he contends, a trial court found in favor of CBS, and ordered Hunter to pay attorney's fees and costs which amounted to $800,000. The lawsuit claims that Allred told Hunter that she had contacted witnesses "but Hunter knew that was a lie. These witnesses were Hunter's friends, people he had worked with for years, and they told him they were not contacted."
"Allred sandbagged her client to serve her personal pecuniary interests, her penchant for public fame, and to protect the malfeasance of her media allies. Allred needs to spend less time in front of a TV camera, and more time in an ethics library," the court paperwork reads. The June lawsuit was filed by Robert Barnes, a California based attorney, who also contributes legal opinion pieces to LawNewz.com.
Hamilton Fox , the D.C. Disciplinary Counsel, told LawNewz.com that he could not confirm or deny the existence of an investigation. He said under bar rules, information regarding a disciplinary investigation can only become public if/when formal disciplinary charges are filed.
[image via Shutterstock]
Have a tip we should know? [email protected]
Rachel Stockman - President / On Air Host