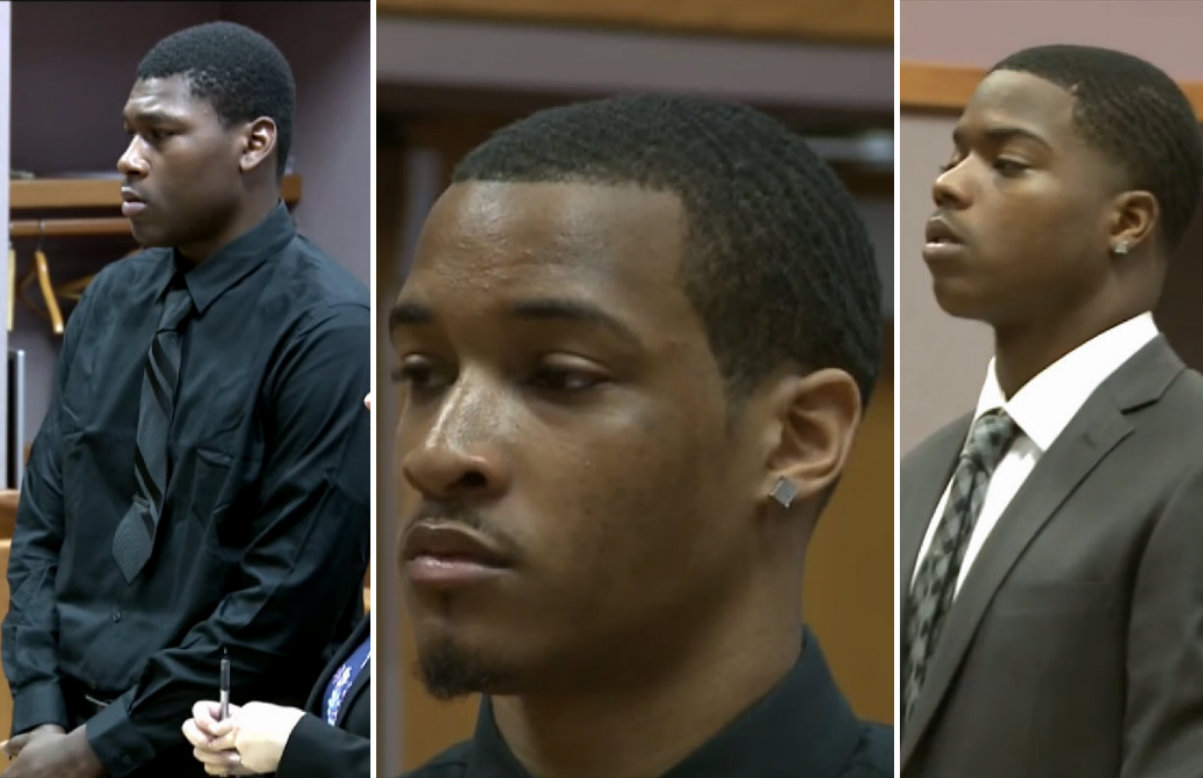 Three ex-Michigan State University Football players accused of sexual assault were sentenced Wednesday to three years of probation, according to WILX. Authorities had argued that Donnie Corley Jr., Josh King, and Demetric Vance abused a woman during an on-campus party on January 16, 2017. They each ended up pleading guilty in April to a lesser, rather obscure state law: seducing an unmarried woman. King also admitted to surveillance of an unclothed person. They faced up to five years behind bars, but prosecutors recommended no jail time.
The woman's attorney Karen Truszowski told the outlet the plea deal was the best decision in order to avoid trial.
"Having a survivor of sexual assault testify in court is very difficult and it does traumatize them all over again," she said.
Ingham County Circuit Court Judge Rosemarie E. Aquilina also sentenced Corley, King, and Vance to 100 hours of community service, and therapy. That said, she is giving them the chance to clear their records under the the Holmes Youthful Trainee Act (HYTA).
Judge Rosemarie Aquilina: sentencing equally applied to all of you. I am granting you HYTA, probation for 36 months, sex offender treatment, individual/group therapy, and you'll also have cognitive therapy. @wilxTV

— Marcus Dash (@DashOfNews) June 6, 2018
Judge Rosemarie Aquilina: You'll each provide 100 hours of community service @wilxTV

— Marcus Dash (@DashOfNews) June 6, 2018
"Do you think you did anything wrong?" she asked Vance in court.
"No," he said.
Judge Rosemarie Aquilina: "Think before you undress, not just you, the other person." @wilxTV

— Marcus Dash (@DashOfNews) June 6, 2018
Judge Aquilina gained notoriety when she sentenced former MSU and USA Gymnastics doctor Larry Nassar to up to 175 years in prison for sexual abuse charges. The outspoken judge told Nassar at the time, "I just signed your death warrant."
An MSU Police Department detective had testified in June 2017 that King chatted up the woman, made her go into a bathroom, and forced her to perform sex acts. He allegedly let Corley and Vance inside at separate moments, and the woman was forced to perform oral sex on them, the detective said.
Under HYTA, the judgments have not been entered. If granted this status, Michigan defendants who plead guilty to certain crimes committed from age 17 to 23 will have their records cleared of the conviction provided they follow the judge's requirements.
When a judge signed arrest warrants against them in June, 2017, King and Corley were 19, and Vance was 20.
Ingham County Prosecutor Carol Siemon explained her point of view of the plea agreement in April.
"The plea to seduction is a tool that we have as prosecutors, but it is an imperfect tool," she said in a statement obtained by The Detroit News. "It allows the criminal justice system to acknowledge the victim, and it provides an incentive for that offender to plea, in particular, because it's not an offense that requires that they register as a sex offender."
The defendants won't have to register for the sex offender registry. Siemon called that process a "blunt instrument" that needed to be reformed because while well-intentions, it meandered away from its original goal.
King originally faced one count of first-degree criminal sexual conduct, one count of third-degree criminal sexual conduct, and one count of capturing an image of an unclothed person. Both Corley and Vance were initially charged with third-degree criminal sexual conduct.
[Screengrabs from left to right: Josh King via WDIV, Demetric Vance via Fox 47 news, Donnie Corley via Fox 47]
Have a tip we should know? [email protected]