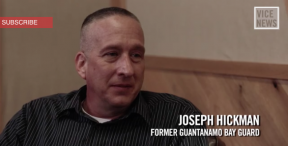 An explosive new report from VICE News is claiming that three suicides at the American detention camp, Guantanamo Bay, may have actually been murders orchestrated and carried out by the CIA.
Army Staff Sergeant Joseph Hickman, a guard at the Cuban prison camp, claims the triple suicide is an improbable coverup and calls the official version of events "impossible." Hickman was on guard on the night in question — June 9, 2006. In support of his claim, Hickman stated that guards are ordered to check the cellblocks holding detainees every four minutes.
The ex-marine recounts, "They would have had to all three tie their hands and feet together, shove rags down their throats, put a mask over their face, made a noose, hung it from the ceiling on the side of the cellblock, jumped into the noose and hung themselves."
Just a few hours earlier, Hickman said the cellblock was inspected. The guards reported no presence of cloth or any other material the detainees would have required to make the nooses and rags used in the tripe suicide as stated in the official version of the story.
The Homeland-esque twists don't stop there. Hickman believes the CIA took each prisoner out of the camp and killed them. Hickman alleges that a paddy wagon returned to high-security Alpha Block, where the detainees were being held, three separate times, each time picking up a prisoner and taking them off site, away from the camp. What lies outside the camp's gates is an either or. According to Hickman, the paddy wagon either went to the beach, or Camp No, a secret CIA holding facility.
Shortly after the paddy wagon returned to camp, Hickman claims it went directly to the medical detainee clinic. "About 10 minutes later, all the lights come on, like a stadium, sirens are going off — it's chaos," Hickman describes. The three men, two from Saudi Arabia and one from Yemen, were dead. Like many detainees at Guantanamo, none of the men had been charged with a crime.
You might be asking, what motive would the CIA have to kill these men? It's important to know that the three detainees were known hunger strikers who encouraged other detainees to do the same. Sergeant Hickman explains, "[t]hey had a policy that if a detainee is hunger-striking, he cannot be interrogated. In 2006, they were doing roughly 200 interrogations a week, so any massive-hunger strike would, what they consider, cripple the intelligence value." That is motive.
In light of Hickman's claims, authorities have made no move to reopen the investigation.
If true, these allegations may revitalize President Obama's push to close the prison before he leaves office. While Republican's have opposed his stance, the camp is globally-derided and maligned by human rights activists.
Quite ironically, Guantanamo Bay's motto is "safe, humane, legal, transparent." If Hickman's allegations are true, this is more evidence that Guantanamo is anything but.
Check out Hickman's interview with VICE News below:

[h/t news.com.au]
[Screengrab via VICE News]
Have a tip we should know? [email protected]