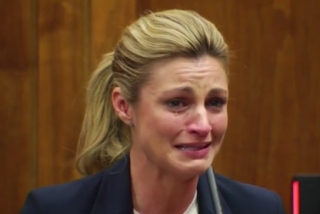 An emotional Erin Andrews testified Monday in the civil trial against Michael Barrett, the man who took video of her naked in a hotel room through the peephole of the door, and the Nashville hotel that gave him the room.
She tearfully described how people initially thought the video was a publicity stunt, saying that for three months after the images leaked, people thought she had staged the incident herself. For years, Andrews worked hard to earn respect in a male-dominated industry, she said, where people doubted her knowledge and focused on her appearance.
Maintaining that respect became much harder for her after Barrett took the video of her and put it on the internet. She said she felt shame and embarrassment after images of her naked were online. She hired a law firm in Florida to send cease and desist letters to websites who posted the video, hoping that they would take it down. One blog responded by simply publishing the letter itself with a frame by frame breakdown of the video with commentary.
When it became known that Dancing With the Stars asked her to be on the show, some people continued to believe Andrews was out for publicity, but she said in her testimony that the request came before the video was taken. She even turned down going on the show at first, fearing that people would think it was a stunt, but eventually went on the show. Andrews, who danced in college, said the experience "was an escape."
Andrews described how she found out about the video. A blogger who had befriended her over the years found it online, and repeatedly called her. When she finally got back to him and heard the news, she went online and watched the video. Instantly recognizing her own body, she told the courtroom, she shut it off and called her parents crying and screaming about what had happened. "It was just a massive blur after that…an out of body experience."
When news of the video broke, Andrews told the court that ESPN said she better get a lawyer and they would do what they could. Andrews hired security because no one knew if the person was stalking and following her or if she was in danger.
Andrews had to release a statement confirming that it was indeed her in the video in order for the FBI to get involved. Once they were on the case, they brought her in and made her watch the video with them. She threw up in the middle of the viewing.
The investigation finally made some progress when FBI agents noticed Andrews reaching for something in her hotel room on the video. The item was identified as a pair of jeans with an angel design on them. Andrews consulted with her wardrobe assistant, who knew that Andrews only wore those jeans when she was covering a game at Vanderbilt. That's when she knew the video had been taken at the Nashville Marriott.
She expressed anger towards the Nashville Marriott, for giving the room next to hers to Barrett. "They could have stopped this!" Andrews cried. She said the hotel never mentioned the name Michael Barrett to her, and never told her that a man asked for the room next to hers and that they had placed him next door. If they had informed her, she stated, she would have called the police, who could have caught Barrett then and there, and she would not have stayed at the hotel.
To this day, people tweet at Andrews and make comments to her every day, she said. They yell at her when she is working at a game, and she tries hard to tune it out. She said that she still trembles when the topic of the video comes up. "I know I'm depressed," she said. She also suffers from nightmares and crying spells, and has sought out treatment. She wakes up at night worrying that there is more video out there. "I feel like I'm on an island all by myself."
The court took a break in the testimony Monday evening, and is scheduled to resume tomorrow.
Stay with LawNewz.com for continuing coverage of this case and live courtroom footage.
[screengrab via WKRN via TMZ]
Have a tip we should know? [email protected]