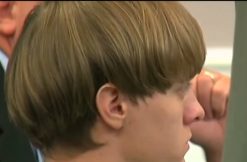 According to a court filing unsealed Thursday, convicted murderer Dylann Roof said there is too much victim-impact testimony at the penalty phase of his trial.
"If I don't present any mitigation evidence, the victim-impact evidence will take over the whole sentencing trial and guarantee that I get the death penalty," he wrote in the brief obtained by The Washington Post. He added that the victim-impact witnesses should be limited to relatives, not friends or co-workers of his victims. Too much testimony violates due process and the Eighth Amendment, he argues (Attorney David Bruck told the outlet he helped draft it).
Roof was convicted in November for killing nine people at the Mother Emanuel African Methodist Episcopal Church in Charleston, South Carolina. A legal team led by Bruck represented him in the guilt phase, but Roof is defending himself in the penalty phase because his attorneys wanted to argue that he is mentally ill. Prosecutors say he should get the death penalty because of his admittedly racist motivation, lack of remorse, and the huge effect the massacre had on victims' families.
U.S. District Judge Richard M. Gergel actually acknowledged the testimony concerns, although he didn't set a specific time limit on testimony when talking to prosecutors on Thursday.
"I'm concerned both about the number of witnesses and the length of their testimony and the length collectively of their testimony, and I want you to revisit your strategy here, because at some point I'm going to cut you off if it gets too long," he said, according to the Post.
The trial's penalty phase is in its second day. Prosecutors said they might bring forward up to 38 people to testify, probably less. One was of them was Denise Quarles, daughter of victim Myra Thompson.
"She taught me what being a woman is, how to be a mom, how to be a grandparent, how to be a friend, how to treat people," Quarles said in court.
So far, Roof hasn't done much for his defense. He gave a brief opening statement, hasn't brought forward any evidence, hasn't questioned any of the witnesses, and only raised a few objections to some evidence.
[Screengrab via Fox News]
Have a tip we should know? [email protected]