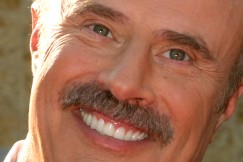 A former employee is suing TV's "Dr. Phil" for not being therapeutic. Not therapeutic at all.
Leah Rothman said she was called into work (on an off-day no less) with about 300 other coworkers. Then they were locked in a room where they were ripped by their boss, Phil McGraw. Now she's in court, pursuing damages for false imprisonment, whistleblower retaliation, wrongful termination, and intentional infliction of emotional distress.
See, McGraw allegedly fired another employee last year for leaking a story on Nick Gordon, former boyfriend of Bobbi Kristina Brown (daughter of singers Whitney Houston and Bobby Brown), who passed away last year after months in a coma.
This allegedly infuriated McGraw, who apparently wanted to take it all on all the staff. That's when Rothman and her 300 co-workers were called into the space. She said there wasn't enough chairs for everyone to sit, and after Dr. Phil entered, security guards locked the door.
"If you f—k with me, I'll f—k with you," McGraw is alleged to have said. According to Rothman, he chewed out the employees, threatened them, and said that whoever leaked the story broke federal law.
"Dr. Phil intentionally chose to threaten and scare this employees, including plaintiff, despite the fact it was already known who the person that leaked the information was," according to the suit.
Rothman said she went to a CBS vice president to complain, but the company let him run free. She said she was told McGraw, "got joy out of the process and in scaring his employees."
No, sir, this story isn't therapeutic at all.
Dr. Phil rocketed to stardom as Oprah Winfrey's life coach. Thanks to the association, he's hosted The Dr. Phil Show since 2002 as a sort of television therapist.
Also defendants in Rothman's suit: Peteski Productions, CBS Studios, Entertainment Partners, and EPSG Talent Services. Recent reports say McGraw hasn't issued comment so far.
[h/t Courthouse News Service, image via Shutterstock]
Updated — Jan. 21, 2:37 p.m. EST: LawNewz reached out to a spokesperson for The Dr. Phil Show, who declined to issue a statement.
–
>> Follow Alberto Luperon on Twitter (@Alberto Luperon)
Have a tip we should know? [email protected]